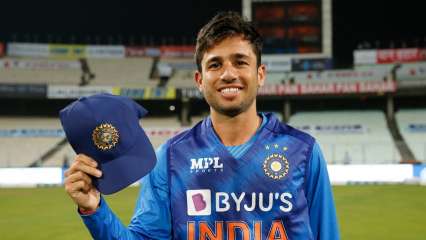 It's always a proud feeling, making your debut for Team India, but imagine the happiness for Ravi Bishnoi who has, at the time of writing, picked up two wickets on his debut. 

Bishnoi, who was picked up by Lucknow Super Giants as one of their draft picks ahead of the IPL 2022 mega auction, was on-song during his debut, dismissing Roston Chase, and Rovman Powell. Twitterati hence were quick to laud the youngster, and some users even asked the Lucknow IPL team how they felt after choosing to retain Bishnoi. 

Having risen through the ranks after representing India at the U-19 level, Bishnoi has made a name for himself in the IPL as well.

READ| Ind vs WI 1st T20: All eyes on Ravi Bishnoi in his debut match

Making his debut in the first T20I versus West Indies, Bishnoi had earlier missed a difficult catch of Nicholas Pooran, he did pluck the ball out of the air, but his feet had touched the boundary ropes. The youngster did overcome his nerves and he inflicted double damage to the West Indies through his bowling. 

Seeing the India U-19 star come alive for the senior team, netizens were overjoyed, and some of them even asked Lucknow Super Giants how happy they were after seeing their draft pick delivering on the biggest stage for India. 

Here's how Twitterati reacted to Ravi Bishnoi's fruitful spell against West Indies:

2 wickets in the space of 4 balls by Ravi Bishnoi – the googly Bishnoi.


— Johns. (@CricCrazyJohns) February 16, 2022
What a debut for Ravi Bishnoi. 2 wickets inside 2 overs for him, great to see him performing!
— Mufaddal Vohra (@mufaddal_vohra) February 16, 2022
Ian Bishop has rightly pointed out that Ravi Bishnoi is a fast-ish off-spinner, hardly ever bowls the stock leg spinner.

He's a taller and faster Piyush Chawla, very much in the mould of bowlers like Rashid Khan and Anil Kumble rather than Shane Warne/Kuldeep Yadav.
— The Weeknd Lyrics Posted Randomly (@ShubhankarSinh) February 16, 2022
READ| Who is Ravi Bishnoi, 21-year-old called up for Team India's squad against West Indies? 

Rohit Sharma appreciates Ravi Bishnoi after picking up his maiden intl. Wickethttps://t.co/dpfyI7sKJo


— CRICKET VIDEOS (@AbdullahNeaz) February 16, 2022
Lucknow fans after Ravi Bishnoi Masterclass vs West Indies: pic.twitter.com/e138TcrWtO
— RajuTarak (@TarakActiviist) February 16, 2022
First International wckt for Ravi Bishnoi @LucknowIPL khush toh bahot honey aap…
—  (@viratian_ammar) February 16, 2022