NEW DELHI: India has dispatched a deep submergence rescue vessel (
DSRV
) to help in the ongoing search and
rescue operation
for the Indonesian diesel-powered
submarine
that went missing with 53 sailors on board around the Bali Strait on Wednesday.
The Indian
Navy
's DSRV, basically a mini-submarine that dives to "mate'' with a "disabled'' submarine to extricate sailors trapped deep underwater, was sent on board its "mother ship" Sabarmati from Vizag on Thursday morning.
The DSRV can locate a submarine in distress up to a 1,000-meter depth utilizing its state-of-the-art side scan sonar and a remotely-operated vehicle. After the disabled submarine is successfully located, another submodule of the system called the submarine rescue vehicle (SRV) can "mate" with the disabled submarine to rescue the trapped personnel up to a depth of around 650-metre. The SRV can also be used to provide emergency supplies to the submarine in distress.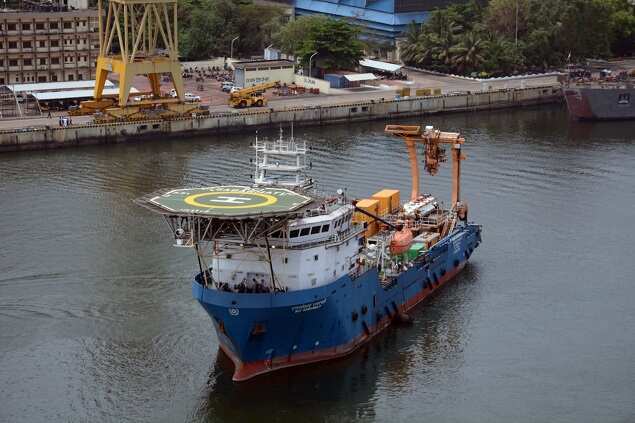 Indonesian authorities have said the sailors on board the submarine KRI Nanggala-402, which is an old German-built 1,395-tonne vessel, have enough oxygen to last until Saturday.
Defence minister Rajnath, on his part, spoke to his Indonesian counterpart General Prabowo Subianto and extended "full support" to the ongoing rescue efforts for the missing submarine.
"I have also tasked IAF to see the feasibility of induction of the DSRV system by air. The Indian government is committed to assist its strategic partners during the times of necessity. General Subianto has acknowledged and appreciated India's support to Indonesia," said Singh.
Navy spokesperson Commander Vivek Madhwal, in turn, said, India was amongst the few countries in the world capable of undertaking search and rescue of a disabled submarine through a DSRV.
"On Wednesday, the Indian Navy received an alert through the International Submarine Escape and Rescue Liaison Office (ISMERLO) for the Indonesian submarine, which went missing while exercising 25 miles north of Bali," he said.
"Under the framework of comprehensive strategic partnership between India and Indonesia, their navies share a strong partnership of operational cooperation. The two navies have been exercising regularly in the past and have developed synergy and interoperability which is considered important for the present mission," he added.
The Indian Navy had inducted two critically-required DSRVs in 2018-2019, one each for the western and eastern seaboards, from a UK-based company, M/s James Fisher Defence, for around Rs 1,900 crore.