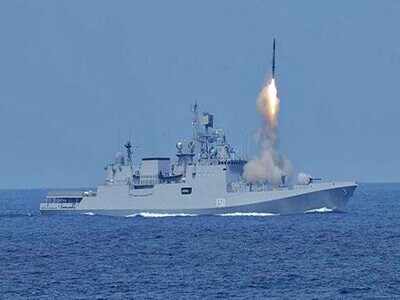 NEW DELHI: India and France on Sunday kicked off their major "Varuna" naval exercise in the Arabian Sea, as a step towards promoting maritime security in the Indo-Pacific region.
The bilateral exercise, in which France has also deployed its nuclear-powered aircraft carrier FNS Charles de Gaulle with its Rafale-M naval jets, comes soon after the two countries joined the US, Japan and Australia in the "France-plus-Quad" La Pérousewargames in the Bay of Bengal earlier this month.
With China's aggressive and expansionist behavior in the Indo-Pacific, there is growing strategic congruence among like-minded democratic countries to ensure a stable and secure Indo-Pacific as well as a rules-based order in the region.
"The three-day Varuna will see high tempo-naval operations at sea, including advanced air defence and anti-submarine exercises, intense fixed and rotary wing flying operations, tactical manoeuvres, surface and anti-air weapon firings, among other maritime security operations," said Navy spokesperson Commander Vivek Madhwal.
India has deployed guided missile stealth destroyer INS Kolkata, stealth frigates INS Tarkash and INS Talwar, fleet support ship INS Deepak, with Seaking-42B and Chetak integral helicopters, as well as a Kalvari-class diesel-electric submarine and P-8I long-range maritime patrol aircraft for the exercise.
Apart from the aircraft carrier, France has fielded air defense destroyer Chevalier Paul, multi-mission frigate FNS Provence and command and supply ship Var, apart from E2C Hawkeye aircraft and helicopters.
"The joint exercise comprises various drills across the spectrum of maritime operations, with the goal of fostering interoperability and mutual learning between the two navies and reinforcing their capability for joint action in a strategic area," said the French embassy, in a statement.
"In this respect, this exercise underscores the shared interests and commitment of both nations in promoting maritime security in the Indo-Pacific. It bears testimony to the vitality of the strategic partnership between France and India, which continues to be strengthened despite the pandemic," it added.
The "Varuna" joint exercise is part of the French carrier strike group's "CLEMENCEAU 21" deployment being conducted in the eastern Mediterranean, the Gulf and the Indian Ocean (Arabian Sea) from February to June this year.
"The goal is to contribute to the stabilization of these strategic zones and strengthening cooperation with the navies of partner countries, in particular India for the Indian Ocean component. As part of this deployment, the carrier strike group is also taking part in anti-ISIS operations," said the French embassy.
After the completion of Varunna, INS Tarkash will continue to exercise with the French carrier strike group from April 28 to May 1, taking part in advanced surface, anti-submarine and air-defence operations.
FacebookTwitterLinkedinEMail