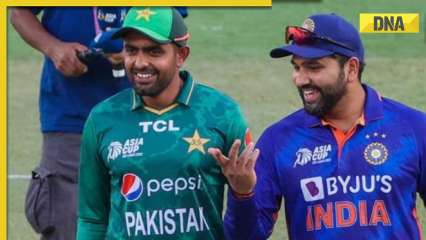 India vs Pakistan, World Cup 2023: Pakistan ready to play in India but…, PCB says this to ICC (file photo)
The International Cricket Council (ICC) chairman Greg Barclay and CEO Geoff Allardice are in Lahore to seek guarantees from the Pakistan Cricket Board (PCB) that it will not push for implementing a hybrid model for its matches in the ODI World Cup in India later this year, PTI reported quoting insiders.

The duo also sought assurances from PCB on the Pakistan team's participation in the World Cup in India. PCB chief Najam Sethi has reportedly agreed to it. However, he indicated that if the Pakistani government doesn't give clearance or has security concerns about sending the team to India, PCB could ask the ICC to hold Pakistan's matches at a neutral venue.
"Naturally neither the ICC nor the BCCI want such a situation since Pakistan's unequivocal participation in matches in India would guarantee the success of Indo-Pakistan matches and also the tournament itself," he said.
Another source said this was the primary reason why BCCI secretary Jay Shah was still reluctant to accept the hybrid model for the Asia Cup and support having three or four matches of the tournament in Pakistan and the remaining games in UAE or Sri Lanka.

Pakistan are the hosts of the Asia Cup and Sethi has said repeatedly that if the tournament is moved to one neutral country from Pakistan, it will not take part in the competition. He has also hinted that if Pakistan didn't get to host some Asia Cup matches it could have an adverse bearing on the World Cup as well.
Earlier, Sethi said that the team will not travel for the World Cup in India if the Rohit Sharma-led side doesn't visit Pakistan for the preceding Asia Cup. The ICC and World Cup hosts, the Board of Control for Cricket in India (BCCI) are concerned with the hybrid model being pushed by Sethi.

Although the hybrid model has been suggested by Sethi for the Asia Cup which precedes the ICC event, the concern remains that once accepted for the regional event the PCB might also then ask the ICC to implement it for the World Cup when it comes to Pakistan playing in India, he explained. The ICC officials are trying to work as a bridge between the PCB and BCCI and resolve the outstanding issues pertaining to the Asia Cup and World Cup.

(With inputs from PTI)