Covid has ruled the Indian team off-side once again. The rule was abolished by 1992, but a virus is still playing by it — halting teams right when they seem to be building up pace.
India set off on the road after a year and in their first two official internationals, the team got the better of Olympic champions
Argentina
. But the day they returned home from South America, the virus struck again.
India's next away fixture of the
Pro League
, which was scheduled for May 8 and 9 against
Great Britain
in London, has been postponed. With the virus mutating and spreading like wildfire in India, the government of the United Kingdom has put India on its 'red list'. Hence, the team can't travel.
While that's the unfortunate bit, it doesn't take the shine off of what the Indian team achieved in Buenos Aires.
The visitors showed some steel to come back and level the first game at 2-2, before claiming the bonus point in a shootout. The second game saw India dominating the hosts. A 3-0 win was the kind of scoreline coach
Graham Reid
was looking for.
Excellence-Friendship-Respect! That's all what it's about. 💙Thank you for having us @ArgFieldHockey!#IndiaKaGame https://t.co/WswP0GTO5o

— Hockey India (@TheHockeyIndia) 1618662558000
Of the six matches in the Argentine capital, India lost just one, which left Reid chuffed about the outcome.
In an interview with Timesofindia.com at the conclusion of the tour, the Australian shared his notes, while keeping Covid central to what lies ahead on the road.
Excerpts…
Two positive results against Olympic champions Argentina. Is Graham Reid a happy coach at the moment?
We were very happy with the results. Of course, we lost that fifth game. Sometimes you need those wake-up calls every now and then for the players to understand that they have to bring out their best every time. Sometimes as a coach you sort of think, 'Okay, you need those things as medicines.'
What were the main entries in your notebook at the end of that tour?
We need to be a little more frugal in defence. That's still valid. It's always (a) work in progress. As we play against [top] teams, they will try and do things differently to try and beat us. So we have to constantly change our structure a little bit.
That's the great thing about competition — the ability to keep plugging the hole. So when a team [opposition] does that, this is what we do. So if you have experienced it before, you end up with better planning at the end of it.
The other thing, of course, is we are trying to make sure we make the most of all the opportunities and try and convert those opportunities into better ones. We had a good number of circle penetrations, but we would like to create more quality opportunities. That's what we will be spending a bit of time on between now and Europe [Pro League tours]. We are working on that.
How good was this run by @TheHockeyIndia captain @manpreetpawar07 that turned the momentum in India's favour! 🏑👌… https://t.co/4BV1wbCx1N

— International Hockey Federation (@FIH_Hockey) 1618220751000
Any one particular thing you have been wanting the team to produce consistently?
One of things that we worked on was our ability to maintain (a) sustained attack — what I have been trying to develop with the guys. If the gap is not there at the moment, we [should] move the ball, go to the other side, check. It gives you a bit more control.
What we are chasing, of course, is more quality attack based on that. Those things take a while. You train for something and then you see it starting to come [happen] in a game until a little later on. We need to keep working on that, getting them [players] to understand when it's better to just hold the ball, wait for the right opportunity. Having said that, I still like to attack (laughs). So there has to be the right balance.
Veteran striker SV Sunil was left out for the Argentina tour, which raised a few eyebrows. How difficult are such selection decisions?
I prefer not to talk about selection in public, to be honest. All I can probably say is it's going to be a really tough selection [for upcoming tours]. Every time you are selecting from this [core] group, it's hard because the quality is there.
(Veteran striker SV Sunil was ignored for the tour of Argentina – TOI Photo)
What I am really trying to do is develop the breadth of the squad, which means when it comes to picking a team, you have the best players available…options. Covid is still a real concern, so you perhaps need even a broader base than you need in a normal campaign, so that you have got quality players who can come in at any point in time.
That's what we are trying to do, provide opportunities and also provide as much competition in the squad so that we are pushing ourselves to be better and better.
Does Tokyo weather call for selection of younger players, who can last longer in humid conditions while playing, for example, five games in 7-8 days?
Tokyo will be a tough environment, when we have back-to-back games. That's the good thing about [Pro League tours of] Europe. We will get opportunities to play consecutive games. Historically at the Olympics, there's been a nice gap between games but this time there are going to be back-to-back games. So it's an important skill to have for players to be able to maintain the high tempo of the game.
It's good to have players who give you experience but also some youth to bring in the enthusiasm and the extra energy. That's again a constant balance that you try to achieve as a coach.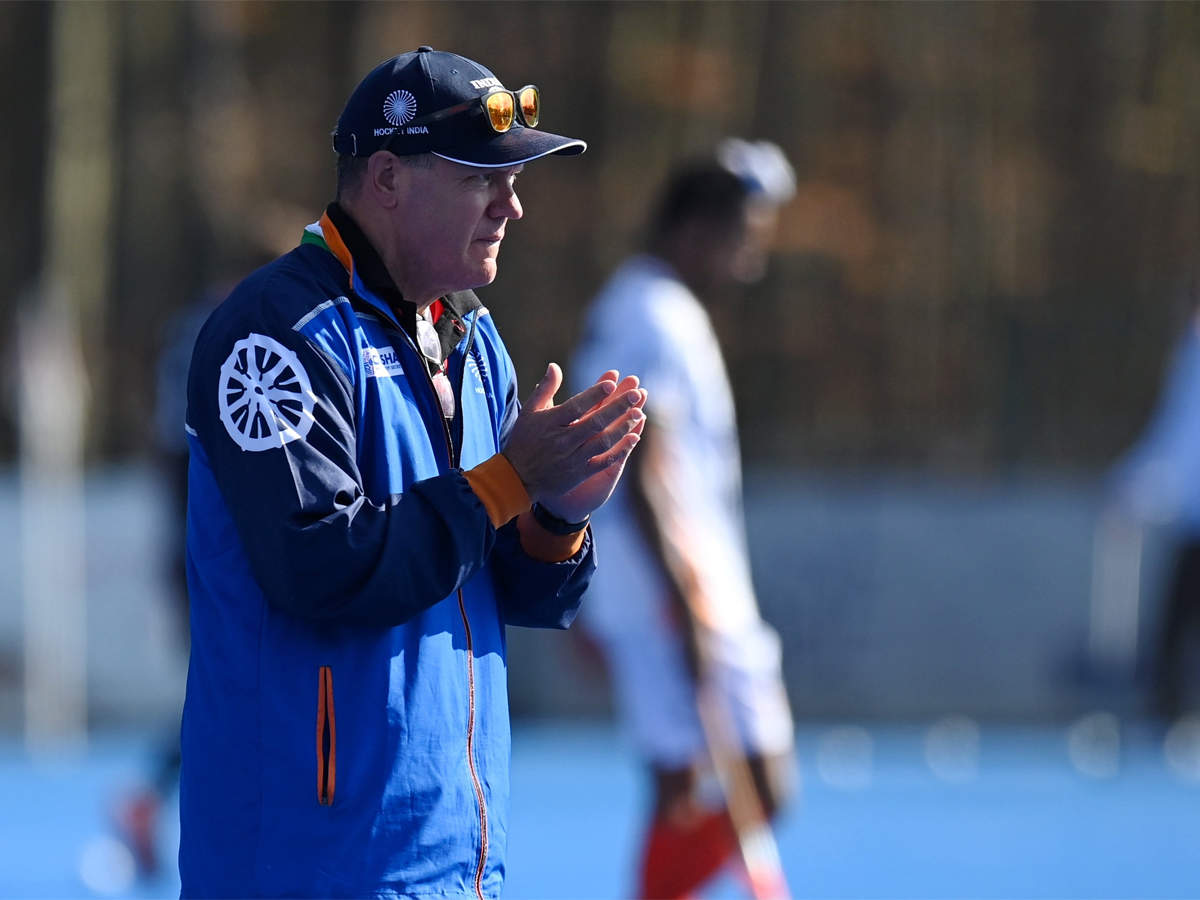 (Reid was named coach of the Indian team after the sacking of Harendra Singh following the 2018 World Cup – HI Photo)
Do you consider postponement of the game vs Great Britain a setback or did you anticipate that considering the Covid graph?
I've said this before, that with the changing scenario world-over due to Covid, we have to take each day as it comes. That is why I always tell the team to not worry about things that are not in our control.
For now, our focus is to utilise the facilities in SAI Centre Bengaluru to make the necessary changes to our game based on the Argentina tour analysis and continue as per [Pro League] schedule in Spain and Germany.