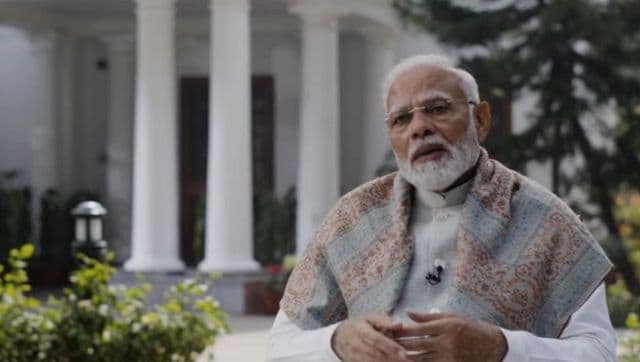 New Delhi: For Prime Minister Narendra Modi, Covid-19 was never an isolated occurrence. In his first-ever detailed assessment of the pandemic that broke the world's back, PM Modi, who features in 'The Vial – India's Vaccine Story' — History TV18's new documentary on the country's Covid-19 vaccine journey — said the severity of the pandemic across the globe was becoming visible as images of overflowing hospitals and dead bodies came out.
"It is true that initially, India was insulated from the virus but today, the world is extremely small, inter-related, interconnected and inter-dependent. The first thought in my mind was that it would be foolishness to assume that the pandemic would be limited to the rest of the world and never hit India," the Prime Minister said.
Talking about the tough decision of imposing a nation-wide lockdown to curb the spread of the virus, PM Modi said: "The only way to escape the pandemic is to save yourself. 'Jaan hai toh jahaan hai'. I was able to educate people about this."
The Prime Minister admitted that even though the country knew that economic woes would follow and supply chains would be affected, people followed the Janta curfew. "It is a wonder for the world that a country as huge as India managed a lockdown of so many days. No other country in the world could take its citizens in that direction," the prime minister said.
History TV18's 60-minute documentary, narrated by actor Manoj Bajpayee, details the story of India's grit in the face of an invisible enemy and how the country, led by PM Modi, developed, manufactured and delivered the Covid-19 vaccine in unprecedented timelines.
'The Vial – India's Vaccine Story', which premieres on History TV18 at 8 pm on Friday, has many firsts and several untold stories that make it a must-watch. It also features interviews of vaccine manufacturers — Adar Poonawala, CEO of Serum Institute of India, and Dr Krishna Ella, chairman of Bharat Biotech — among others apart from detailing India's initiatives such as the CoWIN App and Vaccine Maitri to help other countries with the vaccine.
Read all the Latest News, Trending News, Cricket News, Bollywood News,
India News and Entertainment News here. Follow us on Facebook, Twitter and Instagram.