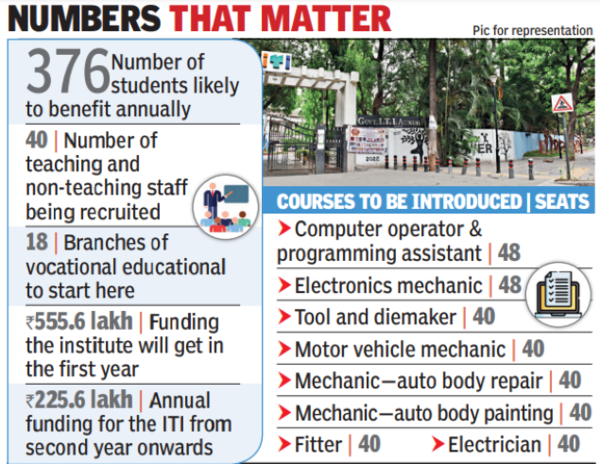 PUNE: The city will get a new ITI at Yerawada jail road from the next academic year.
The Industrial Training Institute (ITI), which recently received the approval of the state government, will initially offer nine short-term and long-term courses, which are likely to benefit 376 students annually.
The state government, on May 17, issued a notification which invited applicants to fill up 40 teaching and non-teaching staff for the new ITI. According to the government's plan, the institute will impart education in 18 different vocational branches like electrician, mechanic, and computer programming among others. For this, the new ITI would require 23 teaching, eight non-teaching and nine Class IV workers.
"The recruitment of teaching and non-teaching staff, and their salaries will be taken care of by the government through the funds that it gives to the institute. A funding of Rs 555.63 lakh will be disbursed for the first year through which the institute will set up the required machinery, equipment, classroom material. From the second year onwards, an annual funding of Rs 225.63 lakh will be given to the institute," Sangeeta Shinde, officer at the state skill development, entrepreneurship and employment department said.
A proposal to this effect was moved by Wadgaonsheri MLA Sunil Tingre in January 2021. Following this, a meeting was held with officials from the department of vocational training, including joint director of vocational education and training in February 2021.
"The population of Pune is increasing by the day. The ITI in Aundh is not enough to cater to the rising student population as well. Courses in ITIs have been in huge demand in recent times. Many students benefit from it and these days students scoring over 90 % marks in their board exams are also competing for a seat at a government ITI. Hence, we had proposed a new ITI in the eastern part of Pune, and after repeatedly following up, the permission for the institute was granted," Tingre said.