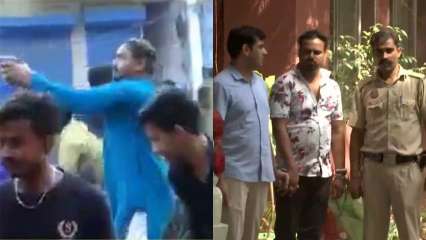 Sonu alias Imam alias Yunus, accused in the Jahangirpuri violence, was sent to four days of police custody on Tuesday by the Rohini court in Delhi. "Rohini court sent an accused named Sonu alias Imam alias Yunus to four days of police custody in connection with the Jahangirpuri violence case," news agency ANI tweeted.

Jahangirpuri violence case | Accused Sonu alias Imam alias Yunus being taken to Rohini court pic.twitter.com/8vouLYs5kG
— ANI (@ANI) April 19, 2022
The 28-year-old, alleged to have fired shots at the time of the clashes in north-west Delhi`s Jahangirpuri on April 16, was arrested by Delhi Police on Monday. Identified as Sonu alias Imam alias Yunus, the accused is a resident of C Block in Jahangirpuri.

Jahangirpuri violence: VHP and Bajrang Dal members booked for taking out religious procession
A video had been circulated on social media of the same person, wearing a blue kurta, and opening fire amid the communal clashes. He was nabbed by the Special Staff of the northwest district police.

Meanwhile, police deployment continued in the Jahangirpuri area on Tuesday following violence that erupted during a religious procession on Hanuman Jayanti on Saturday, April 16. An altercation between two groups resulted in communal clashes that left nine people injured including eight police personnel and a civilian.

The police have so far arrested over 20 men in the case along with 2 juveniles. Earlier on Monday, two prime accused – Ansar and Aslam – were also sent to police custody till Wednesday.
Furthermore, an FIR was also registered by the Delhi Police against the members of the Vishwa Hindu Parishad and Bajrang Dal for carrying out a religious procession without due permission.

(With inputs from agencies)