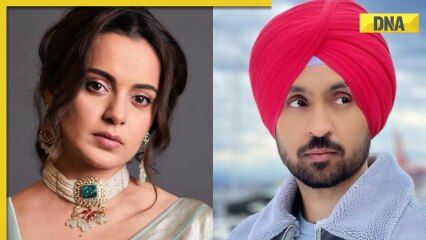 It has been over two years since Kangana Ranaut and Diljit Dosanjh got into an infamous war of words on Twitter. A lot has happened since then. Diljit released several singles (and a few films), Kangana turned director, and even vanished from Twitter during a year-long ban before returning. On Tuesday, the actress attempted to reignite their feud on the microblogging with a jibe aimed at the singer.

Sharing a tweet from food delivery app Swiggy, Kangana tagged Diljit. The original tweet had pictures of pulses with the caption 'pulse aa gayi', a play at 'police aa gayi' being said with a Punjabi twang. Kangana shared that tweet tagging Diljit and adding the hashtag 'Just saying'.

#JustSaying @diljitdosanjh https://t.co/SPMYWVjnfO
— Kangana Ranaut (@KanganaTeam) March 21, 2023
While the actress did not signify the context, many interpreted her jibe as a reference to the recent crackdown on Khalistani sympathiser Amritpal Singh. In the oast, the actress has accused several protesters and activists of furthering the Khalistan separatist agenda. Her Twitter war with Diljit two years ago was on a similar statement of hers after Diljit had supported the farmer protests ongoing at the time.
While Diljit did not take the bait this time around, many of Kangana's followers found the tweet funny, while others waited for another clash. "Bhai phir kalesh karegi kya (She will start chaos again)," wrote one. Another said, "the e-lafda begins." Many others urged the actress to not poke Diljit again, however. "Kya zarurat hai wapis se (why the need to do this again)? Ignore them," read one tweet. Another follower added, "Patience is power calm down please."

Amritpal Singh, a separatist leader from Punjab and a self-styled preacher, is the leader of the Waris Punjab De. He is currently on the run from the police over his alleged role in the Ajnala clash, where armed men stormed a police station and injured several police personnel.