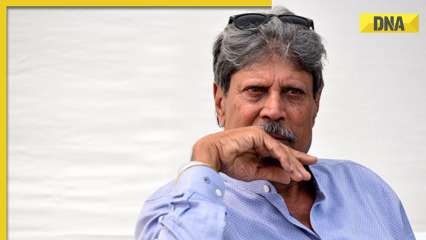 He acknowledges the strength of the Indian team but emphasizes the need for hard work.
Kapil Dev is cautiously optimistic about India's chances in the ODI World Cup, which will be hosted on home soil. While he refrains from labelling India as favourites, Kapil believes that securing a spot in the top four is crucial, with luck playing a significant role in the tournament's outcome.
Speaking at the launch of the third edition of the J&K Open, scheduled at the Jammu Tawi Golf Course from October 4 to 7, Kapil shared his thoughts on India's preparedness. He acknowledges the strength of the Indian team but emphasizes the need for hard work.
"Of course, our team is very good. Heart says something else, mind says no, we have to work very hard. I know our team, I don't know about other teams, so I would say it is unfair for me to give a blank answer. As far as the India team is concerned, it is ready to play and win the championships. They should play passionately and enjoy themselves," Kapil remarked.
India's recent victory in the Asia Cup, marked by a dominant 10-wicket win against hosts Sri Lanka, has boosted the team's confidence. Kapil Dev lauded the performance of the pacers, notably Mohammed Siraj, who claimed six wickets for just 21 runs. He highlighted the evolution of Indian cricket, with fast bowlers now playing a crucial role.
Kapil expressed his preference for closely contested matches as a fan but acknowledged the thrill of seeing the opposition bowled out for a low total. India, however, faces fitness concerns ahead of the World Cup, with key players like Axar Patel and Shreyas Iyer nursing injuries.
"In any team, if any two main players get injured, then it hurts the team's fortunes. That's why a stroke of luck is required because if your main player gets injured, the team's balance gets disturbed," Kapil noted. Kapil Dev also praised young talent Shubman Gill, calling him the future of Indian cricket. He emphasized the importance of nurturing and supporting promising players like Gill.
Regarding the team selection, Kapil Dev backed the selectors, led by Ajit Agarkar, for their choices. He believes the selectors are better equipped to make informed decisions about the squad composition for the World Cup, dismissing debates about players who were not selected. Kapil's faith lies in the expertise of the selection committee in picking the best team to represent India on the global stage.