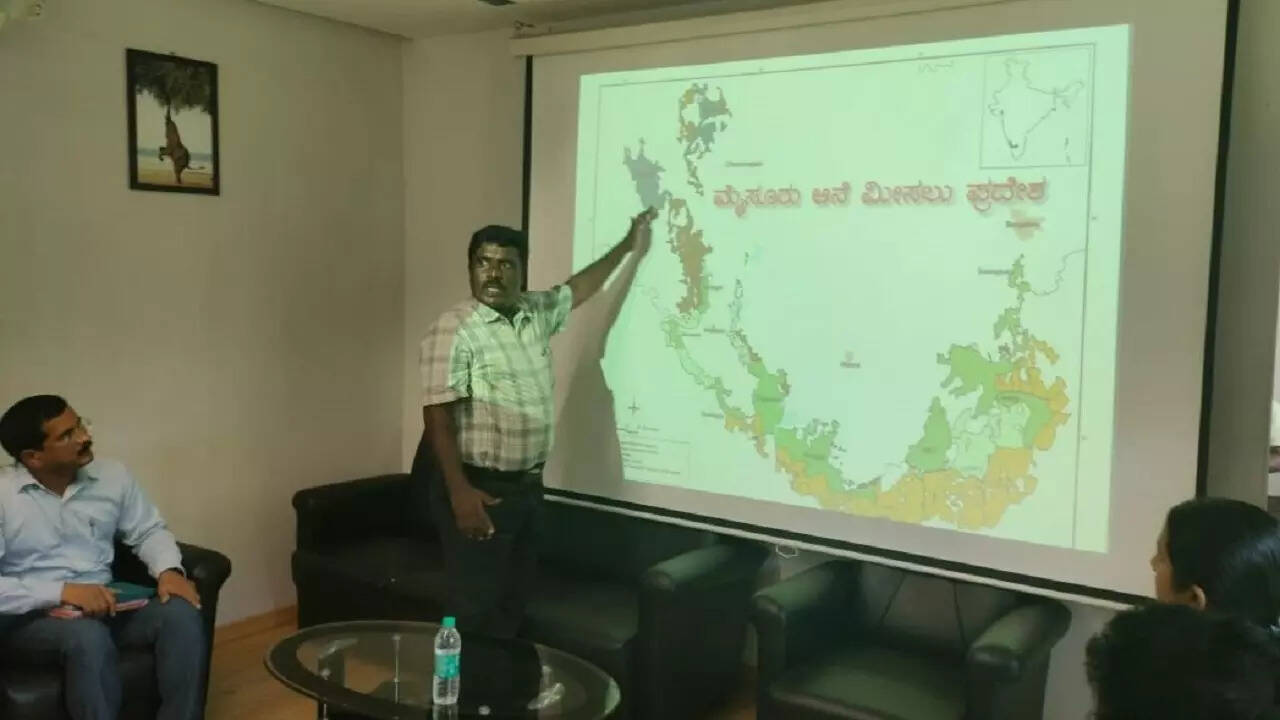 BENGALURU: Preventing the rising incidents of human-elephant conflict around Bannerghatta National Park on the outskirts of Bengaluru and adjoining Ramanagar, the state government will soon set up two elephant task forces (ETFs).
The ETFs comprising the forest officials, and veterinarians will help drive the wild elephants back into the forest. A day after wild elephants trampled two farmers to death in Ramanagar, forest minister Eshwar Khandre held a meeting of forest officials in Ramanagar and announced to set up ETFs in the troubled areas. Currently, ETFs are in place at Hassan, Chikkamagaluru, Kodagu, Mysuru and Chamarajanagar.
The minister also visited the family of deceased farmers Veerabhadra and Kalaiah and handed over a compensation of Rs 15 lakh.
"The wild elephants often stray into human habitation to feed on jack fruit, sugarcane and coffee. While the state government has tried every method to prevent elephants from straying into human habitations, only Solar fencing and hanging solar fencing are found to be successful in preventing these elephants to a certain extent. We will focus on setting up these fences in the elephant conflict areas of
Karnataka
," Khandre explained.
Stating that the department has already undertaken fencing work on the 132 km stretch near the Cauvery Wildlife Sanctuary, the minister said, "The fencing work on the 89 km stretch has already been completed and the work on the remaining stretch is in full swing. As per our assessment, the elephant conflict is prevalent in Hassan, Kodagu, Mysuru, Chamarajanagar, Ramanagar and Bannerghatta. We have directed the forest officials to ensure no loss of humans."
The department is also building elephant-proof barricades and solar fencing on the 641 km forest area and out of which work on 360 km has been completed.
"While it costs Rs 1.5 crore for building a one-kilometer long railway barricade, the cost of building the solar fence and hanging solar fence would be Rs 6 lakh per kilometer," the minister explained.
DK Suresh, Bengaluru Rural parliamentarian who was present during the meeting expressed that building rubble stone walls around the forest would yield better results than railway barricade fencing. Responding to Suresh's opinion, minister Khandre directed the forest officials to submit a detailed report after analysing the strengths and weaknesses of both types of fences.
Referring to the population of elephants in Karnataka, Khandre said, "Even though Karnataka has 629 elephants, the human casualty is minimal compared to other states in the country. Out of the 50 human casualties in wildlife-related attacks during 2019-20 as many as 29 deaths were largely due to elephant attacks. Similarly, this number rose to 41 during 2020-21. However, the death count dropped considerably during 2021-22 with only 29 deaths. But during 2022-23, the numbers have gone up again with 51 deaths and out of which 29 people were killed by elephants."