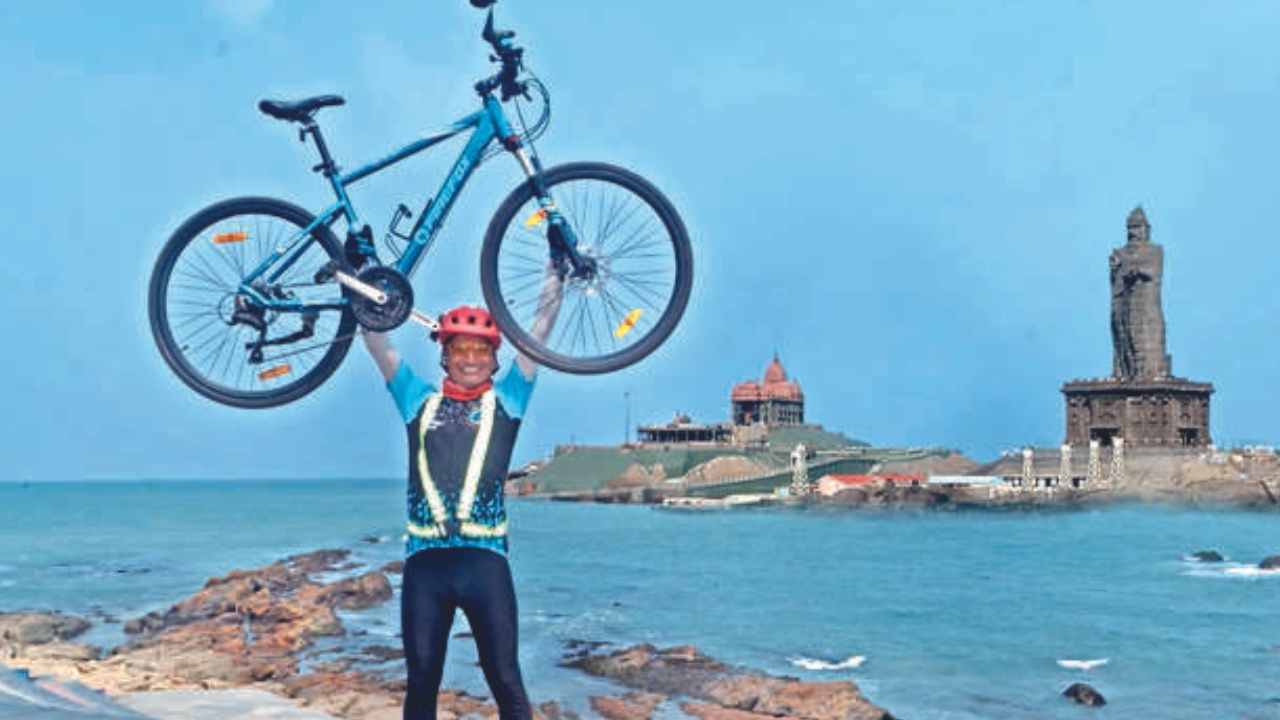 HUBBALLI: The 40-day cycle expedition undertaken by Veeranarayan Kulkarni, a rotarian from Dharwad, with an aim to increase awareness about diabetes reversal, concluded in Kanyakumari on Thursday evening. He cycled from Kashmir to Kanyakumari (K2K in short), covering a distance of 4,061 kms, accompanied by his family in a car.
Kulkarni told TOI that the cycling sojourn was first discussed with his friends in 2013. "It was postponed for one reason or another. Finally, we succeeded in executing it now. I left for Srinagar on January 24 with my wife Purnima, daughter Aamodini and friend Pruthvi, by car. The cycle journey started from Lal Chowk in Srinagar on February 4 in adverse weather conditions. We passed through nine states/ union territories and covered an average distance of 100 kms per day. We took a day's rest after every 10 days and were involved in meetings and discussions to create awareness about diabetes reversal," he added.
Many helping hands
He further said, "My cycling sojourn was aimed at creating awareness about the possibility of getting away with diabetes medications and complications by focusing on one's health and fitness. Seeing our cause, Pune-based Freedom From Diabetes (FFD) sponsored the ride. However, we received good and courteous hospitality from cycling groups, organic farmers, Rotarians, Dharmashalas and it helped us to cut down on our spendings. We delivered 30 talks on diabetes reversal at Rotarians' meetings during our ride. Besides this, we distributed 1,000 pamphlets to people."
When asked about a memorable incident, he attributed it to Babulal Choudari, a salesman in Nagaur village, Rajasthan, who allowed him to use his bedroom. "He slept in the kitchen of his small house. Another time, seeing our board, a Kashmiri pandit stopped his car, came to us and spoke in Kannada. He also took us to his home," he said.
Purnima Kulkarni said that she used to stop the car every 5-10 kms. "Sometimes, we tried to minimise headwind against him and some other times, we followed him to help him with light in the dark," she said.
Chandrashekhar TV, director, Rotary Bangalore High grounds, said that his club supported the initiative as it was a physical athletic adventure to spread message on diabetes reversal.