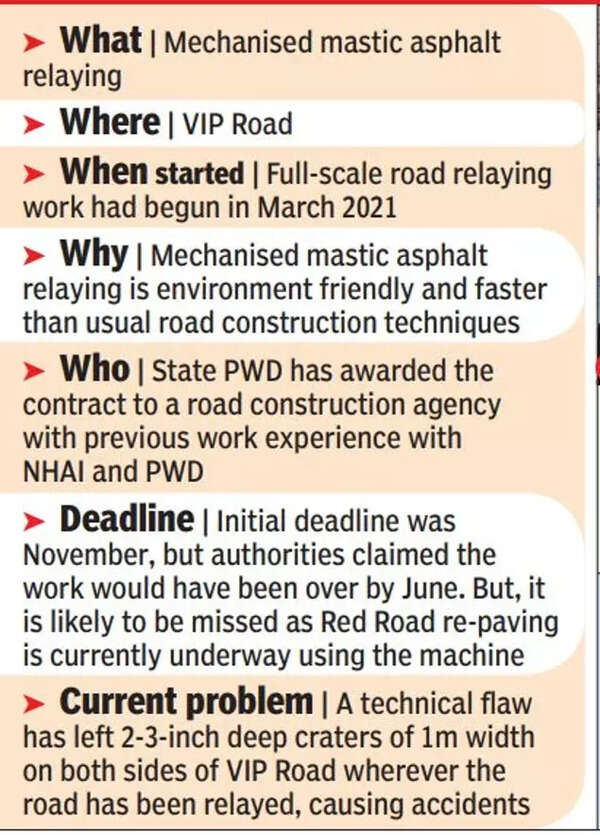 KOLKATA: A 1-metre gap on both edges of either flanks of
VIP Road
that has been recently paved by a German machine has become a
death trap
for two-wheeler riders with bikers and scooters prone to skidding dangerously when the wheels hit the uneven surface along the edge. On Wednesday, a biker lost control on one such section and fell off the motorcycle to be run over by the vehicle that was behind. Some other bikers, who take this stretch regularly, had a narrow escape recently.
Road engineers
said the German Gussasphalt machine being used to pave the road with a 1.5-inch layer of bitumen can cover nine metres of the 11-metre flank. This leaves a 1m unpaved section on either edge where the road surface is 1.5-inch lower than the paved segment. It is when the wheels of a bike or scooter come in contact with the edge that they are skidding, leading to the accidents.
"The biker who died on Wednesday had lost control when the wheel hit the edge of the paved portion near the median divider. He was flung off the bike and run over by a car from behind. There have been more such accidents because of this technical flaw in the road causing injuries to multiple riders. We have informed the state PWD and asked them to immediately make amends to avoid further accidents," said a senior officer of Bidhannagar Commissionerate.
A PWD official acknowledged the problem and said they had intended to raise the 1m wide gap on either side of each flank by manually laying asphalt after the paving work got over but did not realise it would cause accidents and even fatalities. "We have started filling up the gaps wherever the work has been completed to avoid further accidents," the official said.
Bikers, who ride along Red Road where the machine is paving the road, said they encountered similar problem.
As per initial deadline, work on the 8-km stretch of VIP Road between Ultadanga and Jessore Road was set to be over By June. But with the rain hampering the progress and authorities deciding to finish a similar work using the machine at Red Road, work on VIP Road is far from over.
Cops said there has been no work on VIP Road at least for three weeks and the road relaying work that has been done in patches has left several portions in Teghoria, Lake Town and Golaghata uneven.
"VIP Road has become a death stretch for motorists. I myself have somehow managed to keep the bike straight after tumbling on the craters," said Pawan Sharma, a biker who takes the road regularly.