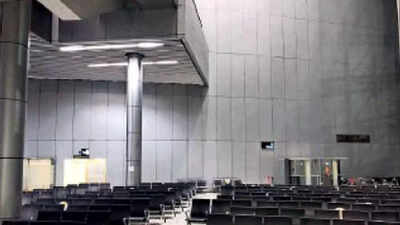 Kolkata airport has set up 350 seats in the international arrival lounge for flyers to wait after they undergo Covid test
KOLKATA: The alarm over the variant of concern that has led to India declaring fresh measures to shield itself from the virus has left travellers from countries that have been labelled 'at-risk', as well as others, confused.
Travellers from the US, France, the UK, Singapore and elsewhere who are set to visit Kolkata for Christmas break called their family members in the city or travel agents to seek clarity in the absence of a central database that they can check for answers.
"With countries now reinforcing restrictions on travel and putting in place safeguards, I want to know whether I can travel to Kolkata via Delhi as originally scheduled and whether I will require to get RT-PCR tested on arrival and quarantine thereafter," said Mahuya Paul, a professor at a US university who is set to reach India on December 9.
Her travel agent has told her that, as of now, there is no requirement for mandatory RT-PCR test for travellers arriving from the US or of quarantine thereafter. However, authorities at the port of entry, Delhi in her case, could ask her to get a Covid test done at her cost on arrival since the latest guidelines for international arrivals mandates RT-PCR tests on 2% passengers in each flight from countries other than those labelled 'at risk'.
For passengers arriving from the 11 countries labelled 'at risk', the confusion is greater. A person with Twitter profile Raja Babu wrote: "Can we have rapid PCR testing available for arrival at Kolkata airport please? Waiting for 6 hrs for result is too long."
Sarit Roy from Singapore has a similar issue. "Called Kolkata airport. They said PCR test on arrival and 5-6 hours wait for the results! We were to fly with an 11-month-old infant! Now rethinking the whole trip. How does a 5-6 hour wait make sense over home quarantine? Are safe-distancing measures even good enough to do this?" he posted.
Though there is a rapid PCR facility available at Kolkata airport and is used by passengers departing for UAE where a Covid test is required within four hours prior to travel, passengers coming from 'at risk' countries must undertake an RT-PCR test, an airport official said.
Another user with the profile name Protagonist Dev enquired: "I have a query for a family member who will be travelling to Guwahati via Kolkata from Singapore on December 8. After testing negative at Kolkata airport, can the person undertake the onward journey to Guwahati and maintain the home quarantine in Guwahati?"
The notification from Union ministry of health and family welfare on Wednesday said such a person can travel onward and be quarantined in Guwahati, but will be required to get re-tested for Covid on the eighth day after arrival.
FacebookTwitterLinkedinEMail