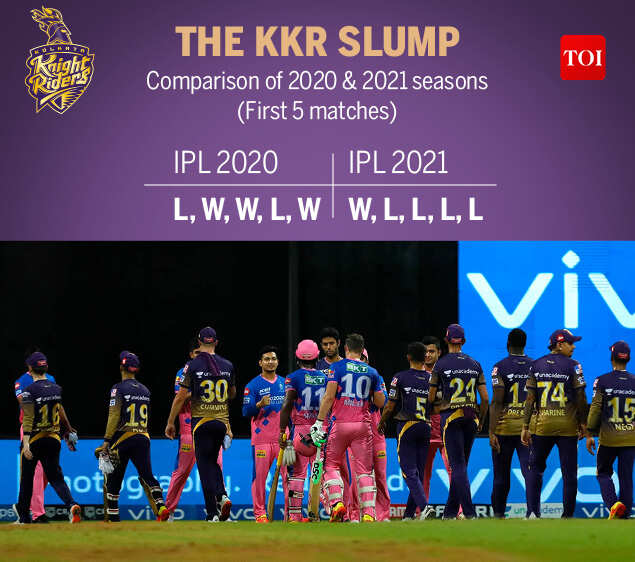 Across the 13 completed editions of the Indian Premier League (IPL) the Kolkata Knight Riders have been one of the more popular franchises. A superstar co-owner, some very big international names across seasons and two IPL titles (2012 and 2014) have made KKR one of the more keenly followed teams in the league. They are also one of only three franchises (MI, CSK, KKR) to have won the title more than once.
However the team has struggled to live up to its potential for a while now.
The last time KKR made the play-offs cut was in the 2018 edition, when they finished third after the league stage, behind Sunrisers Hyderabad and Chennai Super Kings. They eventually lost in Qualifier 2 to SRH by 14 runs.
POINTS TABLE
|
FIXTURES
Last season, when the league was played in the UAE, KKR had a 50% win percentage, winning 7 and losing 7 of their 14 league stage matches. The result was that the team had to depend on other results and eventually lost out on a play-off berth only on NRR. Three teams (SRH, RCB and KKR) were tied on 14 points each and SRH and RCB pipped KKR to make the last 4 by virtue of a superior NRR. KKR were left to rue missed opportunities, which if they had capitalised on would have seen them make the playoff cut.
In the 2020 edition the sequence of KKR's matches read: L, W, W, L, W, W, L, L, W, L, W, L, L, W. Their longest winning streak was two matches long.
This season, when the team pulled off a 10 run win in their opening match vs SRH, the fans had hoped for something that has been missing for a while – consistency. .
But that unfortunately is not what the team has managed to deliver yet.
In their second match of the tournament this year, KKR were chasing a very gettable 153 vs Mumbai Indians. The Kolkata bowlers had done a great job in bowling out the defending champions for 152. Andre Russell had incredible figures of 5/15 and Prasidh Krishna (1/42), Pat Cummins (2/24), Shakib Al Hasan (1/23) and Varun Chakravarthy (1/27) all pitched in to make sure Mumbai didn't get to a huge total.
However, the batting let KKR down. Nitish Rana (57) and Shubman Gill (33) gave the side a great start with a 72 run opening wicket stand, but barring these two batsmen, no one else could reach double figures, as KKR crashed from 72/0 to 142/7, as Mumbai registered a 10 run win and collected two points, which ideally with some better application, would have gone into KKR's account.
It wasn't a surprise that Shahrukh Khan tweeted to apologise to the fans, calling the loss "disappointing…to say the least".
Disappointing performance. to say the least @KKRiders apologies to all the fans!

— Shah Rukh Khan (@iamsrk) 1618336254000
It's not like this loss was extraordinary in any way. These things happen in sport. But a professional franchise is expected to bounce back hard. That is not the script that is always followed, but the fans do expect a more all-round performance after a loss like this. After all the bowling was top notch in this match vs MI, it's the middle order execution with the bat that had to be worked on, especially after the team got such a good start.
What has followed since then though has been one horror show after another.
The bowling which was the big silver lining in the loss to MI leaked 204 runs in their next match vs RCB. That despite the fact that KKR had RCB on the ropes at 9/2, with the dangerous Virat Kohli having been sent back to the hut for 5 in the second over. The very talented and prolific Devdutt Padikkal was also dismissed for 25. But Glenn Maxwell (78) and AB de Villiers (76) tore into the KKR bowling, taking their side to a mammoth 204/4 on a sluggish Chennai track. Another instance of a team being let off the hook by the Knight Riders. In response KKR made 166/8, with Andre Russell top scoring for the team with a 20 ball 31. KKR were handed a 38 run loss.
Since then KKR have gone on to lose two more matches (by 18 runs to CSK and by 6 wickets to RR) for a total of 4 losses in a row that has pushed them down to last place on the points table, with 9 league matches left to play.
In the 2020 edition, KKR had 3 wins in their first 5 matches. This time they have just one.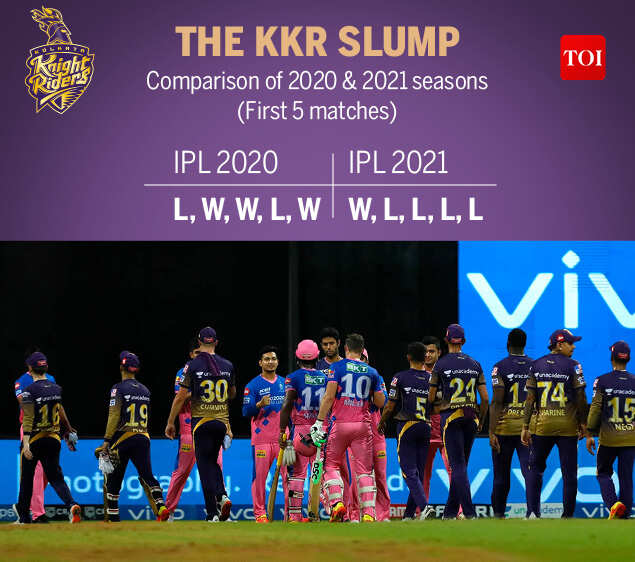 So what is going wrong for the two time champions?
A combination of underperforming players, wrong strategies and what some might call strange selection calls seem to be hurting them.
As far as players underperforming is concerned, here are a few players who really need to step up to the plate big time.
The captain Eoin Morgan has so far managed to score just 45 runs in 5 innings. As one of the cleanest hitters in world cricket he needs to start delivering with the bat. His bowling changes too have been questionable at times.
Pat Cummins, their fast bowling spearhead and someone the franchise bought for Rs 15.5 Crore ahead of the 2020 edition has so far taken just 4 wickets in 5 matches. He is a first choice player, but is he really delivering in the way the team expects him to?
Another foreign player Shakib Al Hasan has played 3 of the 5 games so far, but hasn't really lived up to his all-round capabilities, scoring 38 runs and taking just 2 wickets so far. With the bat he hasn't made a difference in the KKR middle order.
Sunil Narine, who at one time was the go to man for wickets for KKR captains is wicketless so far in the 2 games. Ever since he re-modelled his bowling action, he seems to be a different bowler altogether, far less lethal than what he used to be. In the last season, in 10 matches he scored 121 runs and took just 5 wickets. He has so far this season scored just 10 runs, not managing to deliver with the willow as a pinch-hitter either.
Prasidh Krishna who is very clearly a first choice player for the team has taken 5 wickets in 5 matches, giving away 177 runs. That's an economy rate of 9.31. Is it time to maybe replace him for a few games?
Former captain Dinesh Karthik has scored 97 runs in 5 innings and hasn't managed to make a big impact, not managing to finish games.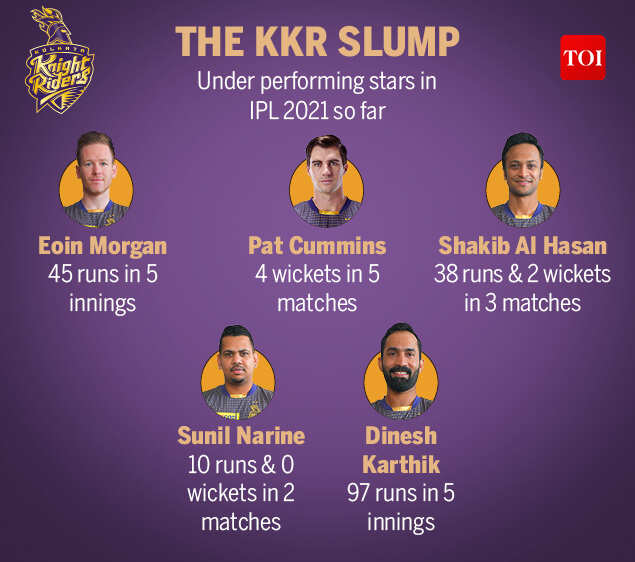 As far as player selection is concerned, what can KKR do? No team wants to make wholesale changes – it sends out the wrong signal and on the field you want to make sure that your core group stays the same as much as possible and continues to deliver.
We saw what happened with CSK last season, when they were the first team to be knocked out of the playoff race. This season the core group is still pretty much the same and CSK currently find themselves at the top of the table. It's the execution that is very different this time from the men in yellow.
But KKR do need to address some big concerns. Barring Nitish Rana and Rahul Tripathi they haven't really had too much consistency in their batting. Shubman Gill needs to be more consistent as an opener and the likes of Morgan, Shakib and Karthik need to score more runs.
Another area they need to work on is their batting order and maybe keep it more flexible. In the last match vs Rajasthan Royals, at a time when they desperately needed to up the ante, Russell was sent as low down as seven. When he did finally come out to bat there were only 28 balls left to play with. With the team struggling to make runs and the Royals bowlers keeping the scoring rate in check, sending Russell ahead of Narine and Karthik perhaps would have made a difference. It's a hypothetical of course, but then a team can't afford to keep its biggest hitter on the bench at a time when they desperately need to up the scoring rate. RCB don't hold back Maxwell and AB for instance.
The team should perhaps also think very seriously about making some playing XI changes. The likes of Lockie Ferguson and Ben Cutting perhaps should be given a go. Kuldeep Yadav, who hasn't played a single match this season can also get a look in.
Ferguson for one is perhaps really under-utilised by the team. He has pace, accuracy and could have been a tough customer to read especially on the Chennai tracks. He can bring in that X-factor to the bowling line-up. Last year he played only 5 games and this season he hasn't got a game yet.
Ajit Agarkar in fact recently questioned why KKR are not playing Ferguson.
Last season, the very talented Kamlesh Nagarkoti (10 matches) and Shivam Mavi (8 matches) were given more chances. This season they have both played just one match each. Maybe they can be tried out together.
There's no doubt whatsoever that this team possesses great talent. The way they came back from being 31/5 vs CSK to 202, thanks to some incredible hitting by Russell, Cummins and also Karthik showed that they have the big guns, but they are just not firing when they really need to. One big partnership up top in this match would have possibly seen KKR being the winners.
But then, that has been their biggest hurdle this season. The team has not played as one consolidated unit. They need to find a way to change that.
KKR haven't really found a way to bounce back since that narrow 10 run loss vs MI.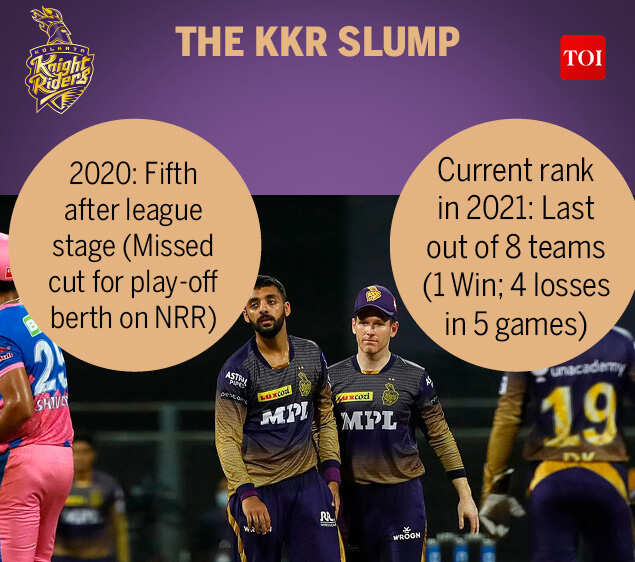 Time is running out for KKR. With three teams already on 8 points (CSK, RCB, DC) and three teams on 4 (MI, PK, RR), the team will have to put together a long winning streak from here on if they want to keep their playoff hopes alive. If not, yet another below-par season beckons the two time former champions.