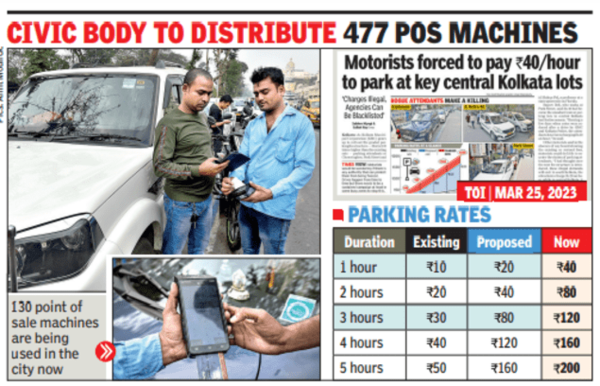 KOLKATA: The Kolkata Municipal Corporation is planning to roll out the new app-based parking fee payment across all parking lots in the city by Poila Baisakh to bring an end to the extortion raj by parking attendants, who are currently charging four times the rate.
A fortnight earlier on April 1, the new graded parking fee structure that hikes the fees by two to 10 times will come into effect.
Following the TOI report on parking attendants demanding Rs 40 per hour in several parking lots in central Kolkata against the current rate of Rs 10 per hour and the proposed revised rate of Rs 20 per hour, KMC officials acknowledged that they had been flooded with complaints from motorists and had, therefore, expedited the roll-out of app-based parking and were introducing a clause in the revised tenders for collection of parking fees in which only those who agreed to abide by the app-based parking fee collection rules would be allowed to participate. There are seven-eight major parking fee collection agencies that operate in Kolkata.
"We want this menace of overcharging of parking fees to end. Parking agencies had issues with rates that we are now set to revise. If they still charge more than the revised rate, we will have to take action against them," said a civic official.
On March 31, KMC will distribute 477 POS machines at a workshop at Uttam Mancha near Hazra where parking attendants from various parking fee collection agencies will be invited and trained. With 130 POS machines already in use, this will take the total number of machines to over 600.
"We are making changes in the tender process to ensure that the participants are in sync with the app-based parking fee collection roll-out and don't make excuses to revert to cash collection that gives them an opportunity to fleece motorists by charging at will," the official said.
Motorists have pointed out the need to install boards at parking lots that display the revised parking fees and a toll-free number to lodge complaints that are addressed. In addition, they want KMC parking department officials to carry out surprise checks to ensure that parking attendants stay in line.