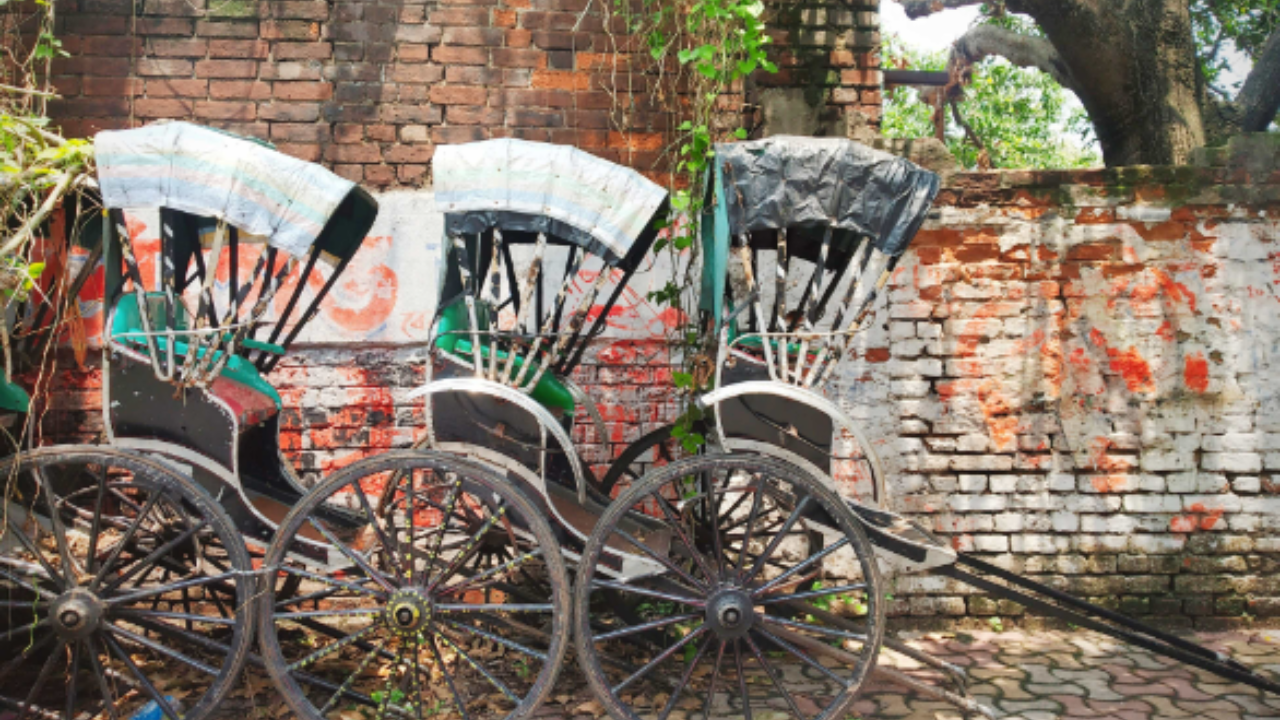 KOLKATA: The Covid pandemic has dealt a body blow to one of the most enduring icons of the City of Joy: the hand-pulled rickshaw. In a matter of four years, the once-ubiquitous mode of intra-city transport has had its fleet size almost halved, owing to a drastic drop in passenger count and migration of rickshaw pullers.
In 2019, there were over 4,500 rickshaws plying in the city. Now, only about 2,500 remain. Rickshaw pullers say they are exiting the profession in droves because there simply aren't enough passengers to sustain a livelihood. The fate of the humble mode of transport had dramatic ups and downs even within the pandemic — from a lifesaver to near-forgotten.
"In the initialdays of the lockdown, rickshaws were in focus as they helped transport people and goods," said Mukhtar Ali, general secretary, All Bengal Rickshaw Association. "After that, there was a prolonged lull as people started to work, study and shop from home. "
Ali says the use of rickshaws fell sharply, mirroring the rise in popularity of work from home. "That forced manypullers to return home, their savings depleted.
Though life has gone back to near-normal, things haven't changed for rickshaw pullers, as the passenger count has not revived to pre-pandemic levels. Earnings are so poor that many of them are shifting to other manual labour, such as hauling goods," Ali told TOI.
Hand-pulled rickshaws haven't quite recovered from the pandemic shock, since people have adjusted themselves to doing most things from the comfort of home.
Before the pandemic, Ballygunge Place resident Dipak Kumar used to take a rickshaw ride to Cornfield Road, where he shopped for groceries. He says he never does that nowadays. "I do all my grocery shopping online. It's a habit that started during the lockdown, and has stayed since," he said.
Similarly, Mamata Agarwal of Bhowanipore, who used to take a rickshaw to drop her son to school, has also switched to a two-wheeler she bought during the pandemic. That works out cheaper. "Hand-pulled rickshaws have become very expensive," she said. It's a vicious circle.
Fewer passengers overall means rickshaw pullers are having to chargemore per ride to even eke out a living. "I now get only two to four passengers a day," said rickshaw puller Suresh Pasmal (40). Seventy-six-year-old Kenna Naskar, who's pulled a rickshaw for over 30 years in the bustling Sealdah market area, also complains about the sharp drop in passengers.
"I now earn a living by hauling goods," he said. "Passengers bargain a lot," said Chotta Lal (67), explaining why he has switched to transporting goods, rather than people. "I don't have to haggle when hauling vegetables. " He said he was thinking about switching over to a cycle van to ferry goods.
Iftakar Ehsaan, owner of a group that conducts walking tours of the city, feared rickshaws would disappear unless they were protected and kept as a "niche" mode of transport for tourists. "Hand-pulled rickshaws survive in only a few pockets of Kolkata. Perhaps a model could be put in place to preserve them as heritage. In places like Japan, a very sustainable model is helping keep this piece of history alive," he said.