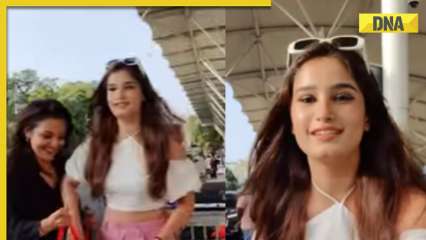 Raveena Tandon's daughter, Rasha Thadani has already become the paparazzi's favourite. Recently, the young child got graduated from high school. A few days after her graduation, on May 30, Rasha was spotted at Mumbai airport. While the photographers captured her photos, they even congratulated her and asked her to treat them with sweets. Before going inside the airport premises, Rasha promised that she will bring lip-smacking kaju katli for them. 

Cut to Sunday, June 4. Rasha was again spotted at the Mumbai airport. As soon as she saw that paps have arrived to click her, she called a team member to bring a box of kaju katli. Rasha opened the box and started distributing the sweets to the photographers. Paparazzi captured a video of Rasha distributing sweets, and while distributing kaju katli, she was saying, "Last time kaha tha na?" The media photographers were happy as Rasha kept her promise. Even Rasha enjoyed a piece of kaju katl
Viral Bhayani shared the video on his Instagram, and wrote, "Fulfilling her promises! How sweet! Raveena Tandon's daughter Rasha geta mithai for media peeps as she promised to get the last time."
Here's the video



As soon as the video was uploaded, several netizens got impressed with Rasha's gesture. An internet user wrote, "Chalo aapke mehnat ka kuch to faal (sweets) mila." Another internet user joked, "Arre aadha aadha kilo ka dabba de deti.. ye kya 1-2 pc kaju katli ka!" A netizen added, "Ladki dildar hai bhai." 

Born on March 16, 2005, Rasha cleared the IGCSE (International General Certificate of Secondary Education) exams in 2021 from Dhirubhai Ambani International School, Mumbai. When Rasha joined Instagram, she shared a few videos of her singing and playing musical instruments. The star kid also has a black belt in taekwondo. Rasha is geared up for her Bollywood debut. Reportedly she will make her big screen debut with Ajay Devgn's nephew.