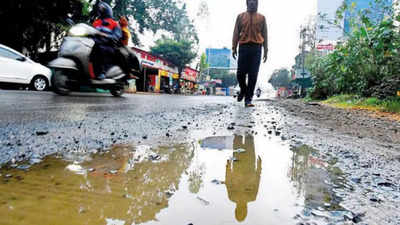 Unseasonal rain in Pune on Sunday morning
PUNE: Parts of the city, including Lohegaon, Pashan and Chinchwad recorded rainfall on Sunday morning.
According to the India Meteorological Department (IMD) Pune records, Chinchwad recorded 1mm rainfall, whereas Lohegaon and Pashan recorded 0.6mm and 0.4mm rainfall, respectively.
Besides, areas such as Lonavala, Lavale and Khed tehsils too recorded trace rainfall. "The city will experience clear and partly cloudy conditions towards the afternoon hours on Monday and Tuesday. The day temperatures on these days would be in the range of 19 to 30°C. From Wednesday onwards, the night temperature would hover between 12 and 13°C till Thursday. The extended forecast predicts that from Friday to January 20, there was a high chance of a significant drop in the night temperatures , said a senior met official.
On Sunday, the Shivajinagar observatory recorded maximum temperature of 27.7°C, which was below normal by 1.3 degrees Celsius and the Lohegaon observatory recorded 28°C, which was below normal by two degrees Celsius. "Due to the trace rainfall in the morning hours and partly cloudy conditions in the afternoon hours, the day temperatures had come down below the normal range," the met official said.
The met officials have predicted light to moderate rainfall in several areas of the Vidarbha region. "High moisture feeding on the Arabian Sea over northwest and adjoining central India in lower and middle tropospheric levels is very likely to continue during the next 24 hours. The confluence of winds from the Arabian Sea and Bay of Bengal at lower tropospheric levels is likely over central and eastern India during the next four to five days," said a senior meteorological official.
FacebookTwitterLinkedinEMail