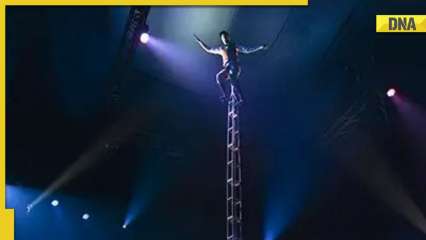 Man breaks Guinness World Record for riding the tallest unicycle | Photo: Guiness World Record
Wesley Williams of Florida broke the Guinness World Records for riding the tallest unicycle. Williams is 25 years old and is famously known as 'The One Wheel Wonder'. He rode a unicycle measuring 9.71 meters i.e., 31 feet and 10 inches. It is about one meter taller than the previous tallest unicycle.Wesley Williams not only rode the unicycle but he also built it with his own hands, says the news release by Guinness World Records. 

About a year ago Williams met a terrible accident while performing in the semi-finals of Spain's Got Talent in 2021. Mid-show his unicycle malfunctioned and he fell 27 feet to the floor.  This accident left him 'nearly paralysed', he had undergone five surgeries and 83 stitches. Nevertheless, the horrific incident could not get the best of him and he returned to the stage platform and decided to go even bigger. 
Read: Ship sinks between Japan and South Korea, leaves 8 dead
He completed his stunt successfully this time and broke the world record. The record-keeping organisation's rules required Williams to ride the tallest ever unicycle at a minimum distance of 27 feet, 10 inches, which he accomplished on December 29 at the Weltweihnachts Circus in Stuttgart, Germany.