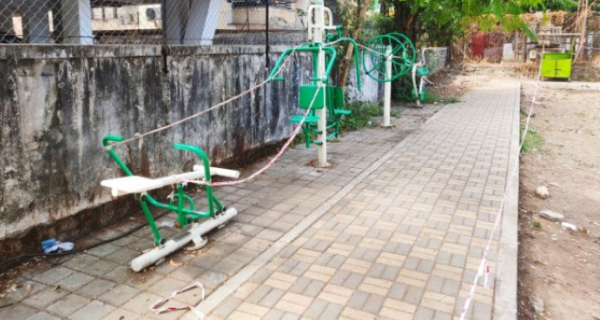 PUNE: A Bhugaon resident speaking over cellphone sitting on an open gym equipment collapsed and died under mysterious circumstances on Monday night at Right Bhusari Colony off Paud Road, police said on Tuesday.
"The cause of Amol Nakte's death is not yet clear. Doctors at the Sassoon General Hospital have reserved their opinion and preserved the viscera for chemical analysis," senior inspector Hemant Patil of the Kothrud police said.
Nakte's friends and some residents of the area said his toes had blackened. They suspected he might have died of electrocution caused by an underground power cable because there was a Maharashtra State Electricity Distribution Company Limited's transformer near the open gym.
Senior police inspector Patil said a case of accidental death had been registered. "We are yet to reach any conclusion about Nakte's death. We shall decide on further course of action after receiving reports from the MSEDCL and other agencies," he said.
"Nakte (23) is survived by his mother and two elder brothers. He ran a business of light fittings at events with a partner," said Sangappa Madar, a friend of Nakte.
The MSEDCL said in a release on Tuesday that a preliminary technical inspection and various tests found that no electricity connection was provided near the open gym and the youth was not electrocuted from the underground low-voltage power line there.
The release stated that preliminary inspection and test was conducted in the presence of residents after the incident on Monday night, which showed that there was no electricity flow in any of the equipment of the open gym.
"Also, the fuse was not blown. There was no power cut either. At 1am, the underground power line was tested by a cable testing van as per the demand of local citizens. The power line wasfound to be in a good condition," the release added.
The MSEDCL informed the electricity inspector's office of the state government in view of the electrocution possibility suspected by the victim's friends and residents. On Tuesday morning, a team of electrical inspectors again deployed a cable testing van for tests.
Om Dhamale, an eyewitness to Nakte's sudden death and his friend, told TOI, "Nakte used to meet his friends on the open ground of Sanyukta Bhusari Colony Mitra Mandal every night for a chat. For the past one week, all of us had gone to Nashik for an outing and returned on Sunday.
We met again on Monday night. Around 8pm, Nakte received a call on his cellphone. He walked towards the open gym and sat on one of the equipment there. After a few minutes, he started walkingwhile talking on the cellphone."
Dhamale said, "After walking some distance, Nakte returned to the gym equipment and sat on it again.
I heard a thud and saw him fall. We ran towards him and found that he had suffered an injury on his forehead and there were black spots on his toes. He was not responding. We took him to a nearby hospital, where the doctors pronounced him dead. We suspect that Nakte died of electrocution. But when we rushed to pick up Nakte, none of us experienced any electric shocks."
Pranay Mehta, the president of the Sanyukta Bhsuari Colony Mitra Mandal, said the area near the gym equipment was cordoned-off to avoid accidents. "Senior citizens and children in the area daily visit the garden and use the open gym facility," Mehta said.