The Manipur government has extended the Armed Forces (Special Powers) Act 1958 (AFSPA) across the entire state for another six months, starting from 1 October, 2023.
However, 19 police stations in the hill state has been excluded, the notification read.
"The Governor of Manipur is of the opinion that the violent activities of various extremist/insurgent groups warrant the use of Armed Forces in aid of Civil administration in the entire State of Manipur…," a notification by the Home Department of Government of Manipur read.
"The Governor of Manipur hereby accords approval to declare the entire State of Manipur excluding the areas falling under the jurisdiction of the 19 (nineteen) Police Stations as "Disturbed Area" for period of 6 (six) months with effect from 1 October, 2023," the notification read.
"The Manipur government is of the opinion after analysing the prevailing law and order situation in the State that it is not expedient to have detailed assessment on the ground as the Sister Security Agencies are preoccupied in maintenance of law and order. Further, it will be premature to arrive at any conclusion or decision on such sensitive matter without detailed assessment; thereby not appropriate to review the "Disturbed Area" status to the State at the moment," the notification stated.
What is AFSPA?
The AFSPA gives special powers to the armed forces and the Central armed police forces deployed in "disturbed areas" to search, arrest and to open fire, if deemed necessary, for 'the maintenance of public order'.
Since 3 May, Manipur has been witnessing ethnic clashes between the Meitei and the Kukis communities. Over 150 people have died since the clashes broke out in the state.
The disturbed area declaration under AFSPA in Manipur (except Imphal Municipality area) is in operation since 2004.
In April 2022, AFSPA was removed from 15 police station areas in six districts and from 1 April, the Disturbed Area notification was withdrawn from four other police stations.
19 police station where AFSPA has not been extended
1 – Imphal
2 – Lamphel
3 – City
4 – Singjamei
5 – Sekmai
6 – Lamsang
7 – Patsoi
8 – Wangoi
9 – Porompat
10- Heingagng
11- Lamlai
12- Iribung
13- Leimakhong
14- Thoubal
15- Bishnupur
16- Nambol
17- Moirang
18- Kakchin
19- Jirbam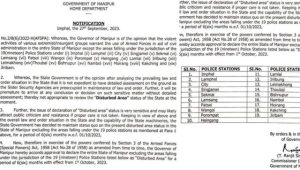 AFSPA extended in Nagaland, Arunachal Pradesh
On Tuesday, the Ministry of Home Affairs (MHA) extended for six months the disturbed area status in parts of Arunachal Pradesh and Nagaland under the AFSPA, 1958.
The AFSPA has been in force in a few districts and police station areas in both Arunachal Pradesh and Nagaland for many years now and it is extended periodically.
With inputs from agencies