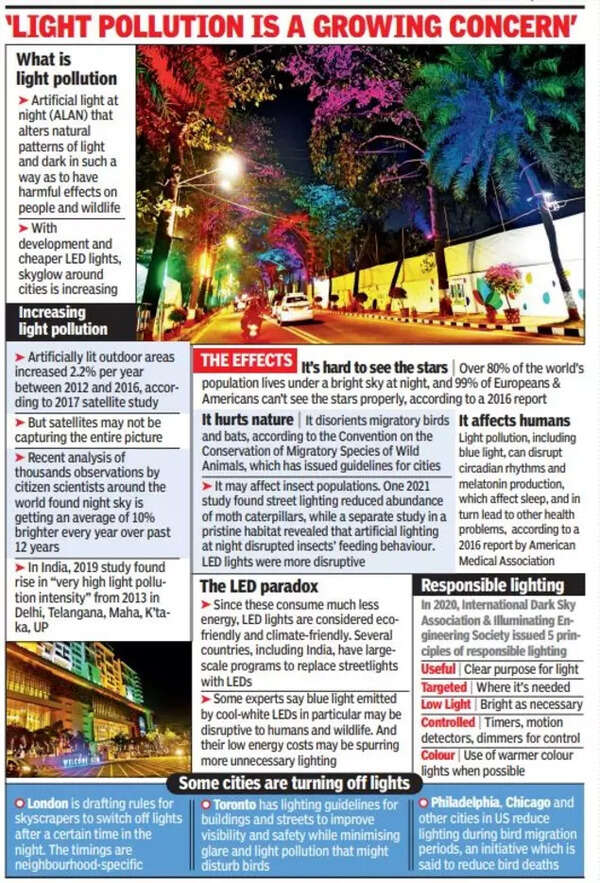 MUMBAI: The past few weeks have seen the city transform with brightly coloured lights around trees, light poles and traffic islands as if it were
Diwali
or New Year's Eve.
The event that seems to have triggered the illumination was the arrival of G20 delegates for a meeting on, ironically, energy and environment.
While some Mumbaikars were charmed by the fairyland look, the reaction of many was reflected in a change. org petition posted this week titled: 'Stop Defacing Mumbai Through LEDs'.
Timesview
Civic authorities should consult with local communities and urban designers before sanctioning beautification projects, or they risk spending money for decorations that are neither useful nor particularly decorative. And, as the recent criticism of the illumination of streets and trees shows, these projects can even turn into an eyesore.
The petition complained the butterfly and spiral-design lights were "unappealing" and "overly bright" and requested authorities to consult community and design experts before implementing beautification projects. It also highlighted the problem of light pollution—the term for the increasingly bright skies around cities thought to be harming wildlife and ecosystems.
Resident and painter Simeen Oshidar was quick to sign in support. "We don't need this superficial cosmetic uplift," she told TOI, adding, "Not to mention the colossal waste of electricity."
Like other cities around the world, Mumbai uses lights to celebrate festivals such as New Year or attract tourists such as with the lighting of CSMT and Gateway of India.
The use of decorative lighting though has grown with the BMC's recent beautification drive. A brainchild of chief minister Eknath Shinde, the beautification project saw the BMC take up 1,175 works across the 24 civic wards since last year, of which 842 have been completed for a total cost of Rs 1,705 crore.
Apart from illumination, these projects have included new concrete dividers, stamped footpaths and painted bridges and city walls.
"In addition, the road department has done resurfacing of roads of about 120km while the maintenance and electrical department has done electrification of 13 skywalks," said a civic official.
Several residents told TOI the civic body should improve basic services rather than spend on beautification. "Mumbai needs neat and clean surroundings," said King's Circle activist Nikhil Desai.
Others said beautification projects should go through expert scrutiny as well. Architect Nitin Killawala said the BMC should have established a panel of qualified planners to provide recommendations for different localities. Area-specific studies are needed to anticipate future developments in neighbourhoods, added Anuradha Parmar, executive director, Urban Design Research Institute (UDRI).
Although lighting seems to be the easiest way to dress up a street or neighbourhood, Parmar noted that poorly designed lights can be hazardous or confusing for motorists. Art-based practitioner Dhwani D, who also signed the petition, said, "The city is already so crowded and busy—the lights make it (feel) busier still."
The use of illumination as beautification is misconceived, suggested long-time environmental activist Sumaira Abdulali. She recalled residents complaining when lighted designs started going up on Juhu beach. "Even though the lights were less bright, it disturbed people living there and obscured the view of the sea, the moon and the stars," she said, adding, "We're discouraging people from considering nature as beautiful compared to artificial light."
Even if low-energy LED lights are being used, they still consume electricity and create problems for migratory birds, she noted. Studies have shown light pollution—and especially the blue light of LED lights—can throw off bird migration as well as disturb insects, bats and marine turtles. Blue light can also disrupt human sleep cycles.
In some ways, the spread of LED lights may enable light pollution. As these energy-saving lights have become cheaper, they are being used more widely and often without discretion, say experts.
For instance, international guidelines recommend shading outdoor lights to reduce pollution. But it is not uncommon to see high-wattage LED lamps in building compounds without any shading to prevent disturbance to neighbours, said Abdulali. Outdoor lighting needs to be regulated just like noise, she said. "We all enjoy lights during Diwali and Christmas, but there have to be rules about how much and for what purpose." (With Vaishnavi Chandrashekhar)