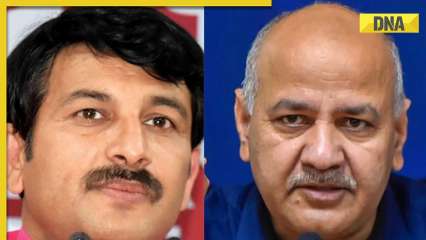 'Mastermind yet to be arrested': BJP leader Manoj Tiwari reacts to Manish Sisodia's arrest
Bharatiya Janata Party (BJP) MP Manoj Tiwari on Sunday reacted to the Delhi Deputy Chief Minister Manish Sisodia's arrest in the liquor scam case and said that the "mastermind" behind the scam is yet to be arrested. While talking to ANI, Tiwari said, "Law is doing its work."

After eight hours of questioning, Manish Sisodia who was accused in the liquor scam case has been arrested. "He has been arrested not only for being accused but also for destroying the evidence. This country's agencies reach the accused persons sooner or later. Mastermind is yet to be arrested," he added.

"A lot of people have been satisfied with his arrest but the arrest of the mastermind is yet to be made," he further added. Hours after Delhi Deputy Chief Minister Manish Sisodia's arrest, Chief Minister Arvind Kejriwal on Sunday said honest and nationalist people are being arrested nationwide. Kejriwal and his wife also reached Deputy CM Manish Sisodia`s residence soon after Sisodia's arrest.

Punjab Chief Minister Bhagwant Mann also reached Sisodia's residence. While talking to mediapersons, Kejriwal said, "Manish Sisodia is an honest man. He has been serving the country. He worked hard for underprivileged students and transformed government schools in Delhi. Today he has been arrested."

"We are seeing how honest and nationalist people are getting arrested nationwide," he added. On Sunday, the Central Bureau of Investigation (CBI) arrested Delhi Deputy Chief Minister Manish Sisodia in connection with the alleged Delhi liquor excise policy case, after eight hours of questioning.

READ | UP witness killing: BJP leader's brother reportedly named in Umesh Pal murder case

Shortly before arriving at the CBI office for questioning, the Deputy Chief Minister said false cases are being lodged against leaders as Prime Minister Narendra Modi was "afraid" of Chief Minister Arvind Kejriwal.

"Conspiracies are being hatched by the CBI and ED and false cases being lodged against our party leaders because PM Narendra Modi is afraid of CM Arvind Kejriwal`s rising popularity. As AAP grows further, BJP will continue to slap false cases on us. We are not afraid of the CBI, ED and their false cases," Sisodia said, claiming that people were starting to regard the AAP as an alternative to the BJP.
He said that the PM, while not afraid of Congress MP Rahul Gandhi, was scared of the AAP. "Everyone says that only AAP will rid the country of the BJP in future. Modi-ji may not be scared of Rahul Gandhi but if there`s one party that he is scared, it is the AAP. They will put me in jail, but we are not afraid. We will fight. Kejriwal is the only future leader of this country," Sisodia said, addressing supporters at Raj Ghat.

He further appealed to Arvind Kejriwal to "keep fighting" for the welfare of the people. "I want to tell Kejriwal-ji, please continue with what are you doing. Keep fighting for the welfare of the people," Sisodia said.Aam Aadmi Party (AAP) workers were heard chanting "Modi Mar Gaya" slogans outside Fatehpur Beri Police Station in support of Delhi Deputy Chief Minister Manish Sisodia, who appeared before the CBI for interrogation in connection with alleged excise policy scam today.

The Delhi Police detained 50 workers and leaders of the AAP. Delhi police said the AAP workers and prominent leaders, including Sanjay Singh, were detained allegedly for violating Section 144 of the CrPC."A total 50 persons, including 42 men and 8 women, were detained," Delhi Police said.

READ | Manish Sisodia arrest: AAP, other opposition parties allege vendetta politics, BJP rejects charge

Earlier, the CBI had asked Sisodia to appear for questioning on February 19. On last Sunday, Sisodia requested the central agency to defer questioning saying that he is "preparing the budget" at present and can only appear before it towards February-end.
However, Sisodia has not been named an accused in the chargesheet filed in the case. Arrested businessmen Vijay Nair and Abhishek are among the seven accused named in the chargesheet. In August last year, the CBI searched Sisodia`s bank locker in connection with the case. The deputy CM claimed the sleuths did not find any incriminating material in his locker.

Several raids were conducted at 21 places in Delhi and the National Capital Region, including Sisodia`s residence, and the premises of four public servants last year, according to a CBI officer, who further said that the raids were conducted across 7 states. The CBI launched a probe in the matter on the basis of a report forwarded by the Delhi chief secretary to L-G Saxena recommending a probe by the central agency.