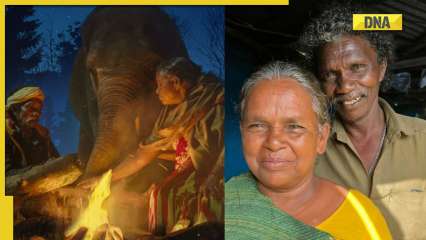 Helmed by Kartiki Gonsalves in her directorial debut, The Elephant Whisperers is nominated for the Academy Award for Best Documentary Short Film at the upcoming 95th Oscars, set to take place at the Dolby Theatre in Los Angeles on March 12. The 40-minute heartwarming documentary explores the relationship between humans and wild animals.

The Elephant Whisperers is based on the life of a tribal couple named Bomman and Bellie, who devote their lives to caring for orphaned baby elephants named Raghu and Ammu, forging a family like no other. Here's everything you need to know about the real-life elephant whisperers, Bomman and Bellie.

The couple belongs to the forest community Kattunayakar Tribe, which lives in the Mudumalai National Park in Tamil Nadu, India. Bomman comes from a family of mahouts, elephant caregivers. The tribe originally hunted wild animals in the forest reserve, before they decided to start taking care of elephants. He works at the oldest elephant camp in Asia, Theppakadu Elephant Camp. On the other hand, Bellie initially feared wild animals as her first husband was killed by a tiger. Soon, she was assigned to take care of baby elephants and that's how she met Bomman and the two tied the knot with each other.

In 2017, they were entrusted to take care of a one-and-a-half-year-old male baby elephant who was bitten by wild dogs. The couple named him Raghu and raised him like their own child. An emotional bond developed between Bomman, Bellie, and Raghu. Soon, the trio welcomed another female baby elephant named Ammu into their lives and took care of her. As Raghu had grown up, he was given to another mahout and his separation was heartbreaking for the couple and Ammu. As shown in the documentary, Bomman and Bellie now live at the Theppakadu Elephant Camp with five-year-old Ammu.


Produced by Guneet Monga under her banner Sikhya Entertainment, The Elephant Whisperers is streaming on Netflix. It will be competing against Haulout from Russia, How Do You Measure a Year?, The Martha Mitchell Effect, and Stranger at the Gate from America to win the Academy Award. Apart from this short documentary, India has two other chances to pick up the Oscar statuette as All That Breathes is nominated for Best Documentary Feature and RRR's Naatu Naatu is competing for Best Original Song.
READ | Meet Rahul Sipligunj and Kaala Bhairava, Naatu Naatu singers who will perform RRR song at Oscars