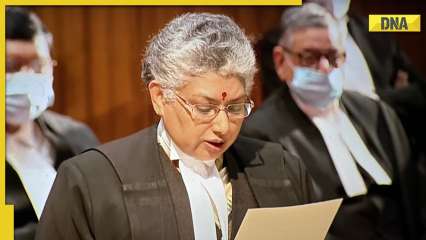 Meet Justice Nagarathna: SC judge who gave dissenting verdict on demonetisation may become first female CJI in 2027 (File photo: Twitter)
The Supreme Court has upheld the validity of the Centre's November 2016 decision to demonetise the currency of Rs 500 and Rs 1,000. The top court delivered the verdict by a 4:1 majority with Justice BV Nagarathna giving the dissenting judgment.

Justice Nagarathna said the demonetisation of high-value currency notes was "vitiated and unlawful." She was the junior-most judge on the bench. Holding that Parliament cannot be "left aloof" in a matter of such importance, Justice Nagarathna noted there was no independent application of mind by the Reserve Bank of India (RBI) and the entire exercise was carried out in 24 hours.

Who is Justice BV Nagarathna?  

Born on October 30 1962, Justice Nagarathna may become the first female Chief Justice of India (CJI) in 2027 with a tenure of over one month. The 60-year-old Justice is the daughter of former CJI ES Venkataramiah, who was on the top SC post for six months in 1989.

She started as a lawyer in Bengaluru in 1987 and practised in the fields pertaining to the Constitution, commerce, insurance and service.

Justice Nagarathna has served as a Karnataka High Court judge. She was first appointed as an Additional Judge of the High Court in 2008 and became a permanent Judge on February 17, 2010.
Justice Nagarathna was elevated to the Supreme Court in 2021. Also, she may become the first female CJI for a period of only 36 days, the third shortest stint as CJI in Supreme Court history.

READ | Who is Suhail Sameer, BharatPe CEO resigning after five months of taking over
She will become the second CJI in 2027 whose father too had occupied the top Supreme Court post. Justice Nagarathna's father ES Venkataramiah was CJI in 1989.

Earlier, When Justice DY Chandrachud became the 50th CJI in November 2022, he became the first CJI whose father (Justice YV Chandrachud) too had occupied the position in the late 1970s.