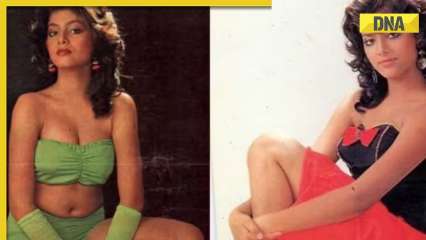 Meet Oye Oye girl Sonam: Became star at 16, got married at 19 at peak of her career, lived in 4 countries and then…..
Super hit song 'Tirchi Topi Wale, Babu Bhole Bhale, Tu Yaad Aane Laga Hai' from the film 'Tridev', which released in 1989, is an iconic song of Bollywood and if you remember this song, then you must not have forgotten the actress who performed in this song. This song was picturised on Naseeruddin Shah and actress Sonam Bakhtawar Khan. The popularity of this song helped Sonam grab instant fame and till date Sonam is called the 'Oye-Oye Girl'.

Sonam Bakhtawar Khan was one of the top actresses of Bollywood at that time. Sonam started her acting career at just 16-17 years and by giving many bold scenes in her debut film itself, she grabbed the attention of everyone. Sonam started her acting career in 1988 with Yash Chopra's film 'Vijay'.
After giving successful films like 'Vijay', 'Tridev', 'Vishwatma', Sonam had established herself as one of the top actresses in Bollywood. In the period when actresses used to shy away from giving kissing scenes on the screen, 17-year-old Sonam was comfortable in bold scenes too.
Sonam was at the peak of her career when she surprised everyone by marrying at the age of 19. Sonam got hitched to director Rajiv Rai, who was 17 years older than her. According to reports, Sonam and Rajiv Rai were dating each other during the shooting of Tridev.
After marriage with Sonam, Rajiv Rai started getting threats from the underworld and Abu Salem even tried to kill him. Both Rajiv and Sonam got scared after the attack and decided to leave the country overnight. Sonam and Rajiv then lived in at least four different countries to escape the threat of underworld.

According to reports, the relation between Sonam and Rajiv Rai got bitter with the passage of time and finally Sonam divorced Rajiv Rai in 2016 and returned to India.