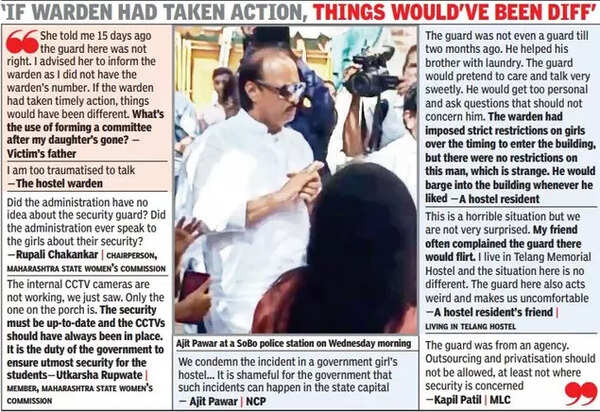 MUMBAI: Guard Om Prakash Kanojia had been harassing her and trying to get close, the 18-year-old student suspected to have been raped and murdered by Kanojia on Tuesday in a government-run women's hostel in south Mumbai told a fellow resident a few days before the incident.
The victim's 53-year-old father confirmed that she had also told him, and he had advised her to inform the hostel warden. However, the warden told police nobody had informed her. The hostel had three guards, all men.
The father questioned why there were no women guards in a girl's hostel, and demanded a probe into negligence on the part of the hostel authorities and appropriate action. He claimed his daughter had asked the warden to shift her to a lower floor as much of the hostel was vacant, but she was told to either stay on in her fourth-floor room or leave the hostel.
The family will conduct her final rites in the Shivaji Park area on Thursday morning, a senior police officer said on Wednesday night.
The victim, who came from Akola district, was in the second year of her diploma in computer engineering course at a Bandra college and had been staying at the hostel since April 2021. She has a twin brother.
Kanojia, 35, killed himself on the railway tracks on Tuesday morning minutes after he was seen leaving the hostel at 4.44am. The victim's friend has told the police that she had told her Kanojia had misbehaved with her two weeks ago. He would harass her by switching off and on the corridor lights.
When the police learnt about it, they questioned the warden, who said she did not know as no one told her. The victim's friend did not inform anyone, said a police officer. Kanojia was married with two sons aged 12 and four, and his family lived in his native Pratapgarh in UP. The police have found no previous complaints about him.
The police are awaiting the final autopsy report to confirm rape, and the provisional cause of death is strangulation. "Though there are CCTV cameras on the fourth floor, they were not working," said a police officer. "Kanojia's phone is fingerprint locked. We are sending it for cyber analysis to find out details about his activities."
The hostel has a capacity to house 450 girls but only around 40 were staying on Tuesday. Most, including the victim's roommate, had moved out as the building was going in for redevelopment and also vacations had started. "The girl appeared for her practical exams on Monday. Her train ticket to Akola had been booked and she was scheduled to leave on June 8," said a relative of the victim.
The police said a hostel mate last spoke to the girl at 11.30pm on Monday. The victim asked the girl to stay in her room, but her friend said she preferred to stay in her room.
The crime came to light on Tuesday evening after she did not respond to calls. The room was locked from the outside. When the hostel authorities peeked through a window, they saw her naked body lying on the floor between two beds.
The girl's father said his daughter did not call them up on Tuesday morning so he tried her number in the morning and a couple of times later, but there was no response. "When I had visited earlier, I had taken Kanojia's number as well and he had told me he would help my daughter if anything is required. I called him up multiple times on Tuesday but there was no response," said the father.
He finally called his daughter's hostel mate. She informed the matron. "At around 5pm, a woman police officer called me up and asked me to come to Mumbai," he added.
The parents arrived in Mumbai on Tuesday night. "I spoke to her last on June 5 night. She asked me if I had had dinner. I told her I was going to pick up her mother from the bus station as she returned from her mother's house. She enquired about her mother," the grieving father said, adding her mother is inconsolable.