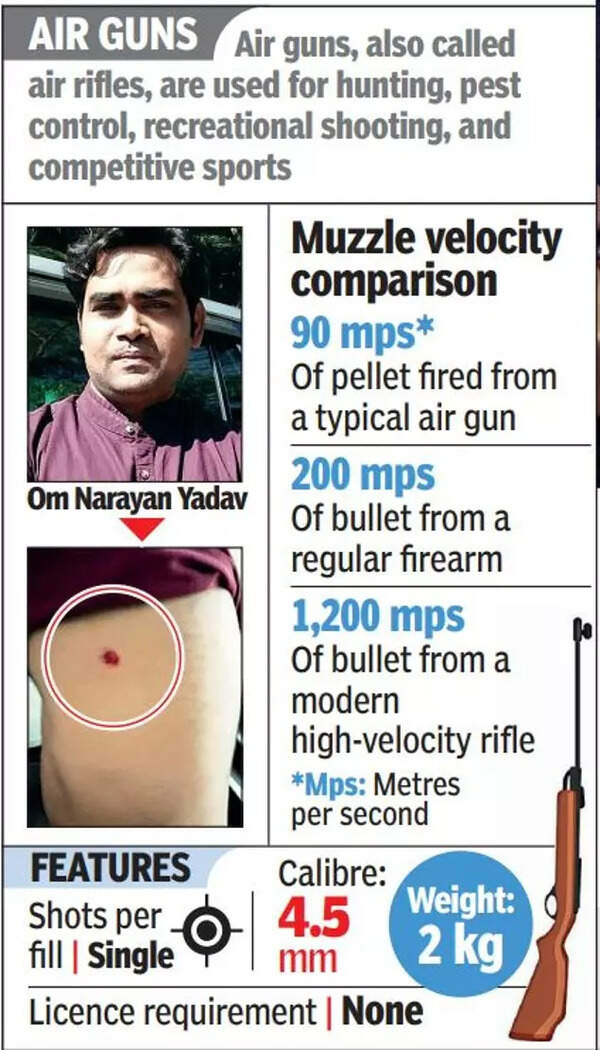 MUMBAI: In a freak incident, a man performing yoga was hit by an air gun pellet at a garden in Andheri (West). Om Narayan Yadav (30), a location manager at a film production company, was injured on one of his right ribs. An FIR was registered against a 54-year-old, Manoj Malkhani, who claimed that his act was not intentional and he had merely fired at a tree from his bungalow close to the garden to scare away birds.
Police said the air gun was fired from just 25 feet away from the spot where the victim was present. Yadav suffered skin lacerations. The incident occurred on the skating track at Posha Nakhwa Garden on Saturday. Malkhani is in the laundry business, said an officer.
Yadav said he was performing yoga around 10.15 am when he felt a burning sensation. "Some children who were present in the garden told me I was bleeding. I could have suffered serious injuries as the pellet hit my ribcage. I learned from a few children that a similar incident had occurred about six months ago," Yadav told TOI on Monday. He is under medication.
"When I rubbed my hands over the injured area, the pellet fell off. I called on the police's emergency number, 100. The police reached the spot and after listening to the incident, took me to the bungalow and checked with the person present inside whether he had an air gun. The person (Malkhani) affirmed that he indeed owned one," Yadav said.
TOI is in possession of the FIR, in which Malkhani, who is in the laundry business, has been shown as an accused. Police said Malkhani claimed he had fired the gun negligently. A case under the Indian Penal Code's sections 336 (negligent act endangering life or personal safety of others) and 337 (hurt by act endangering life or personal safety of others) has been registered against Malkhani. "His air gun has been seized. Air guns do not require a licence to be kept. He has also been served with a notice under the CrPC," said senior inspector Siraj Inamdar of Versova police.