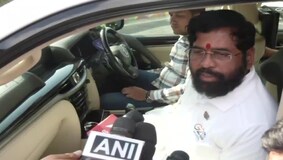 Mumbai Police have nabbed two people in connection with Uddhav Thackeray faction leader and MP Sanjay Raut's death threat messages that he received earlier today.
"Mumbai police detained two people for threatening Uddhav faction leader and MP Sanjay Raut," Mumbai Police said in a statement.
The police are currently questioning the two people in question.
Uddhav Thackeray faction MLA Sunil Raut said, "Uddhav Thackeray faction MP Sanjay Raut and I have received death threat calls since yesterday, asking them not to talk to the media in the morning. Mumbai Police Commissioner and state Home Minister have been informed regarding the incident."
Police register cases against two people for threatening Sharad Pawar
Interestingly, NCP leader Sharad Pawar also received a life-threatening message on social media.
Maharashtra Chief Minister Eknath Shinde on Friday said that the government has taken serious note of the death threat received by senior leader Sharad Pawar on Twitter, adding that he has personally spoken to senior police officers and given them instructions for investigation.
"Sharad Pawar is a senior leader and we all respect him. His safety will be fully taken care of. Instructions have been given to the police to increase security if necessary," said the  Maharashtra Chief Minister.
Meanwhile, Mumbai Police have registered a case under section 153A, 504, 506(2) of IPC against two people who are believed to be connected to the threats.
Nationalist Congress Party (NCP) MP Supriya Sule earlier today said she received a threatening message on her WhatsApp for her father, Sharad Pawar and also met Mumbai Police Commissioner.
She further said that if justice is not served then the Centre and State Home departments will be responsible. "The police have been informed, the home department needs to pay attention. Politics should be kept aside. Threatening messages have come through a website today, there are also threats through Twitter I don't know who is who, I have come to seek justice", she added.
With inputs from agencies
Read all the Latest News, Trending News, Cricket News, Bollywood News,
India News and Entertainment News here. Follow us on Facebook, Twitter and Instagram.