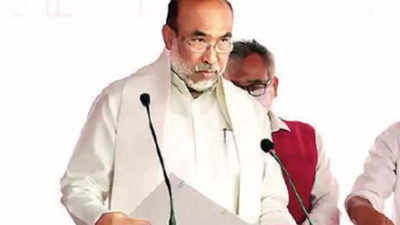 Biren Singh takes oath as chief minister of Manipur
IMPHAL: Portfolios were allocated to six ministers of the new state government, and among them chief minister Nongthombam Biren Singh retained the home department. The governor, "on advice of chief minister", allocated the portfolios to the new minsters, said a notification issued by the state chief secretary on Sunday.
Besides home, Biren also got the departments of personnel and administrative reforms, confidential and cabinet, vigilance and anti-corruption, information and technology, planning and any other department not allocated specifically.
Thongam Biswajit Singh has been allotted with the departments of power, forest, environment and climate change, agriculture, and science and technology.
According to the notification, Yumnam Khemchand Singh got the departments of municipal administration, housing and urban development, rural development and panchayati raj and education. Konthoujam Govindas Singh, who retained his traditional Bishnupur seat in Bishnupur district for the seventh term, has been given public works department and youth affairs and sports department.
Nemcha Kipgen, the sole woman minister, was given textiles, commerce and industry and cooperation departments. Awangbow Newmai of the NPF has been given the departments of water resources and relief and disaster management.
FOLLOW US ON SOCIAL MEDIA