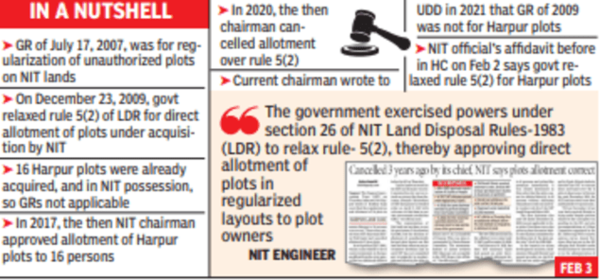 NAGPUR: The current chairman of Nagpur Improvement Trust (NIT), Manoj Kumar Suryawanshi, and his predecessor Sheetal Teli-Ugale had in letters sent to the urban development department (UDD) and order respectively had said the state government not permitted direct allotment of plots to 16 persons in Harpur plots case, and stressed the need for permission.
However, an official from the civic agency in an additional affidavit filed before the Nagpur bench of Bombay high court on February 2 claimed the government had approved direct allotment of plots.
Advocate Anil Kumar Mulchandani told TOI, "It is clear that the official suppressed facts before the HC."
The next HC hearing in the writ petition by Anil Wadpalliwar is on February 8. Advocate Anand Parchure is amicus curiae in the petition.
The NIT official said, "The government exercised powers under section 26 of NIT Land Disposal Rules-1983 (LDR) to relax rule- 5(2) of the rules, thereby approving direct allotment of plots in regularized layouts to plot owners."
However, in order dated February 10, 2020, which applies as on date, Ugale had said relaxation will have to be obtained from the government under rule 5(2) of LDR for direct allotment of plots to 16 persons. She was of the opinion that the government did not approve direct allotment of Harpur plots to 16 persons in GRs dated July 17, 2007 , and December 23, 2009.
In letter dated April 23, 2021, Suryawanshi said, "There was no provision for direct allotment of plots in GR dated July 17, 2007. Therefore, NIT sent letter dated July 20, 2009, to the government seeking relaxation to rule 5(2) of LDR for direct allotment of plots. Government relaxed the rule through GR dated December 23, 2009, which was applicable for lands under land acquisition. These (Harpur) plots were already acquired. GR dated December 23, 2009, is not applicable to these plots."
In the affidavit, NIT official claimed the civic agency did not commit any irregularity in regularizing and allotting plots citing order of the then chairman Deepak Mhaisekar on April 17, 2017.
The order by Ugale is of 2020, and the letter by Suryawanshi is of 2021. The NIT official did not inform about this order by Ugale and letter by Suryawanshi in the affidavit.
Mulchandani said, "They need to be clear on facts and non-disclosure of any relevant orders and letters, that too of chairpersons, may amount to misleading the court."
TOI had on February 3 reported Ugale in 2020 had cancelled allotment of plots of 16 persons, but the NIT official's latest affidavit justifies allotment citing Mhaisekar's order of 2017.
In 2021, NIT had executed lease and handed over possession of plots to 16 persons citing CM Eknath Shinde's order passed in the capacity of urban development minister. Shinde had set aside Ugale's order, but then withdrawn his order on December 16 last year. Thus, Ugale's order was restored on December 16, and prevails as on date.