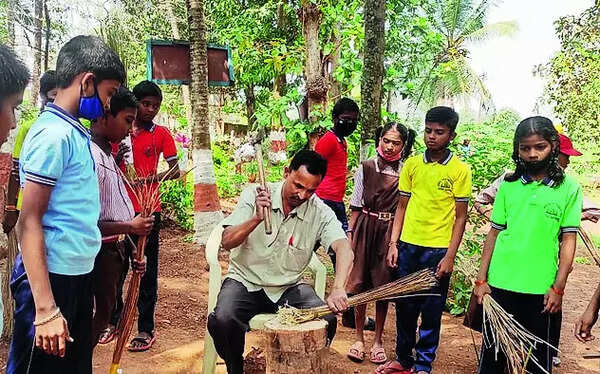 BELAGAVI: A century-old government primary school in Devarashigihalli village of Kittur taluk is in the news for something truly remarkable: It has grown trees of several varieties on its premises to let students know first-hand the importance that trees hold in the overall environment.
Devarashigihalli is a small village with a population of just about 6,000. The government primary school is surrounded by plantations and all pedagogical exercises are undertaken in the midst of nature. The entire school compound is surrounded by mango, guava, custard
apple
and various other fruit trees and flowers. A wide variety of vegetables are also grown on the compound.
Students being taught how to make brooms from fronds of coconut tree in the campus
From a humble beginning in 1880 over just two acres of land, the school today boasts of 14 classrooms, imparting education to students from grade 1 to 7. There are currently 247 students on its register, with eight teachers.
School alumni have gone on to become senior government officers, doctors, engineers, social activists, people's representatives and successful professionals in various other fields.
While the school's surroundings offer students an opportunity to stay attuned to nature, the institution has not missed out on any opportunity to embrace technology and the advancement of science. Education is imparted using green boards in classrooms, while important messages are communicated to students through smart boards that are environment friendly.
Apart from lessons on agriculture that are offered to the students for free, children are also taught waste management skills. Garbage is segregated into dry, wet and hazardous categories and composted. There are more than 20 coconut trees on the school compound. All brooms required by the housekeeping staff at the school are made from the leaves of these trees.
RT Baligar, the block education officer, said good teaching, nurturing of trees and improving the quality of learning are specialities of this government school.
Vinod Patil, the cluster resource person (CRP), said: "The school is a proud institution of our taluk. It offers a conducive environment for all-round development of children. It also helps in developing children's physical and mental health."