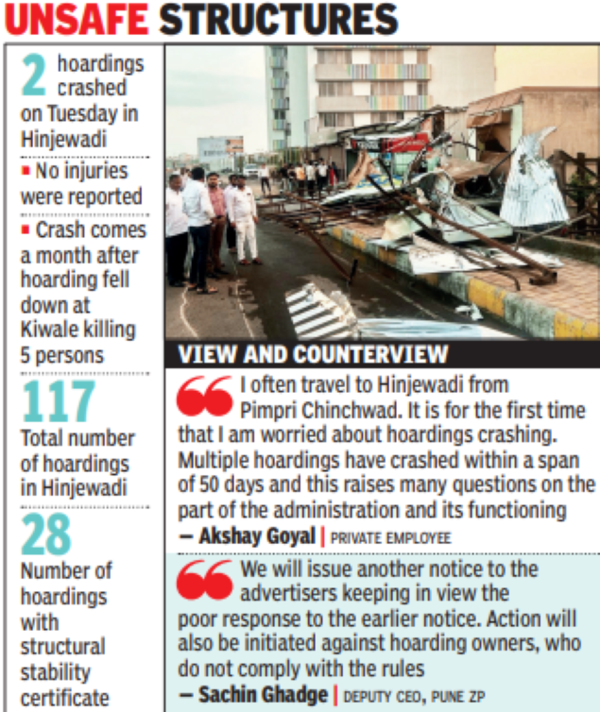 PUNE: Residents of Marunji in Hinjewadi are demanding better safety measures and removal of unauthorized hoardings from the area after their narrow escape following the collapse of two hoardings on Tuesday.
"The hoarding crash not only resulted in a traffic jam but also spread panic among residents regarding their safety. How can we say we are safe when there are hoardings at every chowk and infrastructure work going on everywhere?" resident Shweta Verma questioned.
The hoarding crash at Marunji comes a month after a similar incident at Kiwle, resulting in the death of five persons.
Activist Maruti Bhapkar was of the opinion that the administration has not learnt its lesson even after the Kiwle hoarding crash. "How many more lives must be lost before the administration decides to take substantial action?" he said.
Pune zilla parishad officials said that notices have been issued to submit safety compliance certificates. "There are around 117 hoardings across Hinjewadi of which only 28 have produced the structural stability certificate. We will issue another notice to the advertisers keeping in view the meagre response to the earlier notice. Action will also be initiated against hoarding owners, who do not comply with the rules," deputy CEO of Pune zilla parishad, Sachin Ghadge, said. On Tuesday's incident, the deputy CEO said, "One or two people may have sustained minor injuries at Laxmi Chowk but the hoarding at Marunji was at a deserted place."
It is important to note Hinjewadi gram panchayat had issued notices on May 2 urging advertisers to furnish documents related to the structural audit within a week. Despite non-compliance, no action has been taken by panchayat or Pune ZP so far.