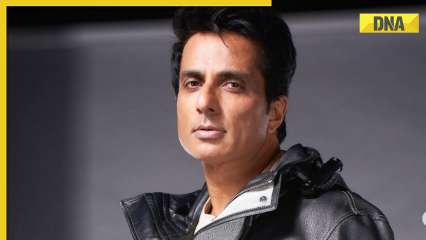 He is an outsider to the Hindi film industry. Still, he has made a name on his own, courtesy of his hard work and power of resilience. Sonu Sood is no longer just an actor now. He has become an emotion, a messiah to the common people who could be reached during times of crisis and necessity.

Sonu started his career in the late 90s, but he rose to fame with films like Jodhaa Akbar, Dabangg, Shootout at Wadala to name a few. Apart from Hindi, he has also acted in Telegu, Tamil films. Having come a long way in the industry, does Sonu feel nepotism poses a threat to a budding talent?

Speaking exclusively to ANI, Sonu categorically said, "Nepotism tha, hai and rehega. (There was nepotism, it is here to stay). Jinke mother-father industry se hai, unke bete aur beti ko role milenge. (Actors, whose parents are from the industry, they might get an easy break). Kal ko mere bete ko shayad role mil jai. (My son might get a role because of his father's name). Ye hamesha rahega. Par is jung ke beech mein aap kaise nikalte ho, wahi aapki taqat hai. (How you carve your own path amid this battle, that shows your power).

Sonu further added, "My father has a clothing shop. So it's easier for me to sit at my father's shop. Customar bane hi the. Mein baithta toh wahi customars wapas aate. (I might get those customers back at the shop). So, there`s no harm if a director's son becomes an actor. Because he has grown up in such an atmosphere."

Sonu mentioned, "Having said that, I also feel, if you don't cast people from outside, you won't see a different dimension in the film industry. You won't see the other colours which make this place a holistic one. Industry role deta hai, par kabhi kabhi time lag jata hai talent prove karne me, space banane mein. (Industry do gives roles to outsiders, but sometimes it takes a lot of time to prove one's talent)Boycott Bollywood has crippled the industry for quite some time before Shah Rukh Khan starrer Pathaan set the box office on fire. What`s Sonu`s take on Ban culture of Bollywood?
"People have become more sensitive now. People, who boycott films, whether they have a genuine reason or not, I doubt that. If you boycott a movie without watching it, that`s not fair. Directors and writers who make films, think they are making a Sholay. Whether the film is upto the mark or not, will be decided only after the movie is seen. So I feel this ban culture should not stop ones from expressing what they want to say," said the Happy New Year actor.
Asked about stereotyping certain communities in Hindi films, Sonu said, "Whether you are an actor, director or writer, you need to be responsible while portraying certain characters on the screen. That era is gone, when you could say, 'I think like that and I will show that way…' people are well-informed now. They won`t take any such things that can be questioned."

As a writer Sonu feels, "To be a good writer, you have to be a good listener. Agar incoming bandh ho jaye, you can`t go forward. When people start achieving success, they stop listening to others." Sonu believes being alert to others` suggestions could only make him flourish.