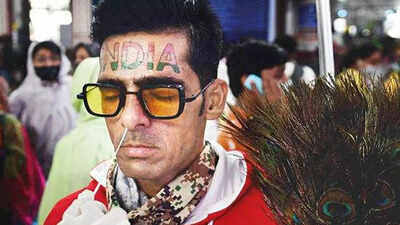 Arun Hariyani (39), a diehard cricket fan who got a permanent tattoo of India on his forehead, gets his Covid test done at Mumbai Central on Thursday. He arrived in the city for the 2nd India versus New Zealand test match
MUMBAI: With vaccination picking up pace, the state has managed to cover 45% of its adult population with both doses of the vaccine against Covid-19. The state's full vaccination proportion, though, is lower than the national average of 49%. Among districts, Mumbai is ahead of all in Maharashtra, having vaccinated nearly 74% with both shots.
Union health ministry officials on Thursday said more than 125 crore doses have been administered in the country to cover 49% of the adult population with both shots and 84.3% with at least one. They said the single dose coverage increased by nearly 6% in the country due to the Har Ghar Dastak campaign while in Maharashtra it rose by 6.8%. The second dose coverage too rose by 11.7% in the country since the door-to-door campaign started on November 3.
In the past three days, the state has clocked nearly 10 lakh vaccinations every day. Besides the Har Ghar Dastak campaign, which has been extended till December end, fear of a surge due to the Omicron variant is also a likely reason for the increased jabs. While listing best practices of different states, joint secretary of union health ministry Luv Agrawal said in Maharashtra, the committee of sarpanches, gram sevak, ASHA and teachers, were successfully used for mobilisation.
The state has administered 11,61,57,412 doses of the vaccine, fully immunising 4.1 crore people and giving at least one shot to 7.5 crore people. The acceleration in daily vaccination has given the state hope that it would cover its entire eligible population of 9.1 crore by the end of the year. As of now, 1.6 crore people haven't taken their first shots.
Dr Sachin Desai, the state's immunisation head, said the share of second dose vaccination is more than the first at present. The state has more than 95 lakh people eligible for their second shot, which is growing each day as more people are finishing their 84-day gap. Dr Desai said people should come forward as more than 1.3 crore doses are available.
While Maharashtra doesn't have a single district with less than 60% single dose coverage, more than 20 are below state average in full vaccination.
FacebookTwitterLinkedinEMail