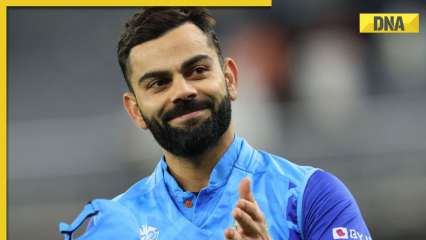 In the ongoing three-match home series against Australia, Kohli was given a well-deserved rest for the first two ODIs.
Former South Africa captain AB de Villiers believes that Virat Kohli may contemplate retiring from white-ball cricket if Team India emerges victorious in the ICC ODI World Cup 2023.
De Villiers expressed his opinion that it would be an opportune moment for Kohli to bid farewell to T20Is and ODIs, redirecting his focus towards playing Test cricket for a few more years. Nevertheless, he also acknowledged that it would not be astonishing if the seasoned campaigner chooses to continue playing, considering his exceptional fitness level.
"I know he loves travelling to South Africa, but it's very difficult to say. It is a long time away. Let's focus on this one first, I think that's what Virat Kohli would tell you. I think if they win this World Cup, it might not be a bad time to say, 'Thank you very much. I am maybe just going to play Test cricket for the next few years and a little bit of IPL, enjoy the last bit of my career, have enough family time, and say goodbye to everyone," De Villiers said.
"But he is in incredible shape and is mentally still there. He has been rested from time to time, which I think is a great move. So, I think the hunger and the fire will still be there," he added.
A fan inquired whether Virat Kohli would surpass Sachin Tendulkar's record of scoring a hundred centuries in international cricket. In response, De Villiers stated that the primary objective of the 34-year-old is not to break records, but rather to lead his team to significant victories.
"I don't think that is his focus. That is not his main drive. He has never been all about myself kind of a guy. He wants to win World Cups for his team and be part of a successful unit in all formats of the game."
"He is a team player, and that's what you see on the field (with) all those emotions coming out. Especially when he is fielding, there is nothing really to gain for him, but you could see that emotion, which tells you how much it means to him to win," de Villiers added.
Notably, Virat Kohli is only two centuries away from surpassing Sachin Tendulkar's record of 49 ODI centuries. Currently, Kohli's century tally stands at an impressive 77, making him the second-highest century scorer in world cricket.
In the ongoing three-match home series against Australia, Kohli was given a well-deserved rest for the first two ODIs. However, fans can eagerly anticipate his return for the third and final match at the esteemed Saurashtra Cricket Association Stadium in Rajkot on Wednesday, September 27.
READ| Will Axar Patel recover in time for ODI World Cup 2023? Report provides significant injury update