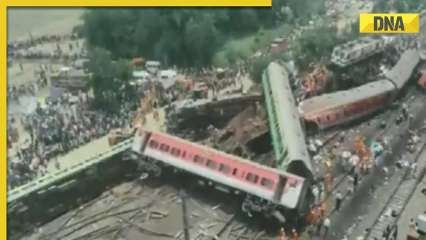 Odisha train accident: Anti-train collision system 'Kavach' was not available on the route | Photo: Twitter/ ANI videograb
The state-of-the-art anti-train collision system "Kavach" was not available on the route where the June 2 Odisha triple train accident took place, the Indian Railways has said as per a PTI report. The train accident in Balasore has again brought the safety of the railways system into the spotlight. People have been questioning and criticising the government over "Kavach" being unable to avoid the collision. 

Kavach is part of Railways' efforts in recent times to improve safety of passengers by saving trains from head-on collisions. Other efforts have included upgradation of railway tracks and removal of all the unmanned level crossings on the broad gauge network.
"The rescue operation has been completed. Now, we are starting the restoration work. Kavach was not available on this route," Indian Railways Spokesperson Amitabh Sharma said.
The system sends alerts when a signal is jumped by a loco pilot (Signal Passed at Danger — SPAD), the leading cause of train collisions. It can alert the pilot, control the brakes and bring the train to an automatic stop on noticing another train on the same line within a prescribed distance.
Meanwhile, the railways has also initiated a high-level probe into the train crash. The probe will be headed by the commissioner of railway safety, South Eastern Circle A M Chowdhary. While the cause of the deadly crash is unclear, a possible signalling failure has been indicated by sources.  

(Inputs from PTI)