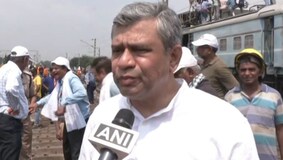 Almost two days after tragedy struck in Odisha's Balasore when a Coromandel Express, Bengaluru-Howrah Express and a goods train collided with each other killing over 275 and leaving 1000 injured, the Indian Railways ruled out an error on the part of loco pilot system malfunction.
The official probe, which concluded early on Sunday, indicated a possible "sabotage" and tampering of the electronic interlocking system behind the triple train accident.
Railway Minister Ashwini Vaishnaw said on Sunday that a "change in electronic interlocking" was to blame for the catastrophic train disaster that took place in the Balasore district of Odisha on Friday evening.
A system of signal equipment called an electronic interlocking prevents trains from moving in opposition to one another along a network of lines. Essentially, it is a safety mechanism to stop signals from being changed in the wrong order. This system's goal is to prevent a train from moving forward until the safety of the route has been established.
Meanwhile, top railway officials in Delhi explained the possible cause behind the accident.
They said the system is "error proof" and "fail safe" but did not rule out the possibility of outside intervention.
"It is called a fail-safe system, it means that even if it fails, all the signals will turn red and all train operations will stop. Now, as the minister said there was a problem with the signalling system. It could be that someone has done some digging without seeing the cables. Running of any machine is prone to failures," Jaya Verma Sinha, Member of Operation and Business Development, Railway Board, said.
#WATCH | The goods train did not get derailed. Since the goods train was carrying iron ores, the maximum damage of the impact was on Coromandel Express. This is the reason for a huge number of deaths and injuries. The derailed bogies of Coromandel Express came on the down line,… pic.twitter.com/DnjheT8NSn

— ANI (@ANI) June 4, 2023
The rail minister further said that the tracks destroyed during Saturday's horrific Odisha train accident will be repaired as soon as possible and rail services in the affected sector will be restored by Wednesday.
"The commissioner of railway safety has investigated the matter and it won't be right for me to comment on that. Let the investigation report come. But the cause of the accident has been identified and the people responsible for it have been identified. Right now our focus is on restoration. There are two main lines and two loop lines. The work is underway and we will definitely complete restoration well before our target of Wednesday morning," Vaishnaw said.
With inputs from agencies
Read all the Latest News, Trending News, Cricket News, Bollywood News,
India News and Entertainment News here. Follow us on Facebook, Twitter and Instagram.