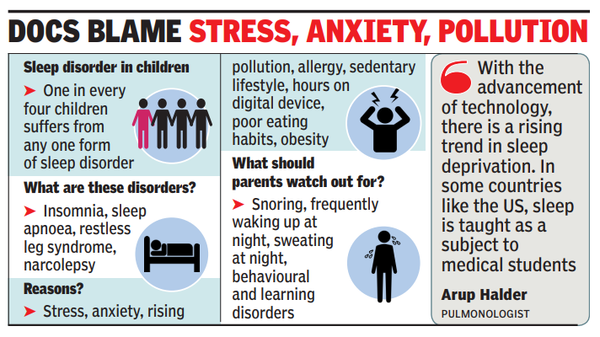 KOLKATA: One in four
children
suffers from some form of
sleep
disorder which could turn chronic, leading to a series of health issues in the long run, warned experts in Kolkata on Thursday, on the eve of World Sleep Day. City health experts pointed out that while sleep disorder is generally perceived to be an adult problem, it is rampant among the paediatric population.
Doctors said pollution, allergy, sedentary lifestyle, poor eating habits, stress and anxiety due to study pressure, apart from long hours of digital time are some of the contributory factors for children getting sleep disorders. Physical factors like enlarged adenoids which is a soft tissue in the throat behind the nose, are also major causes of sleep disorders.
"According to a recent study, about 25% of children suffer from some form of sleeping disorder. Paediatric sleep disorder can take various forms like insomnia, sleep apnoea, restless leg syndrome and narcolepsy (drowsiness during day time). These can have a significant impact on their health and overall wellbeing," said paediatric pulmonologist Pallab Chatterjee.Paediatricians usually detect the condition when parents bring their children with some other health issue. For example, 50% of ADHD (attention-deficit/hyperactivity disorder) which many children suffer from is connected to sleep deprivation, according to experts.
"Snoring by children is not normal. Fragmented sleep can lead to problems like ADHD. Parents as well as general physicians need to be aware so that the problem is detected early," said paediatrician Goutam Ghosh.
Doctors said snoring is usually taken lightly whereas this can be one of the foremost signals of obstructive sleep apnoea (OSA).
"With the advancement of technology there is a rising trend in sleep deprivation. In some countries like the US sleep is taught as a subject to medical students," said pulmonologist Arup Halder.
Paediatrician Subhasis Roy said sleep deprivation and insomnia can lead to OSA which, in turn, can lead to a host of health issues, including cardiovascular diseases and diabetes in the long run.
"Sleep apnoea is a preventable condition and if detected during childhood it can be corrected," said ENT specialist Dipankar Datta.
During a discourse on the eve of World Sleep Day organised by The Institute of Sleep Science Kolkata, its director Somnath Maity stressed on the importance of good quality polysomnography for good treatment outcome.
"Even as there is a rising trend in sleep disorders, unfortunately the diagnostic treatment is yet to be covered by insurance companies," said pulmonologist AG Ghoshal.