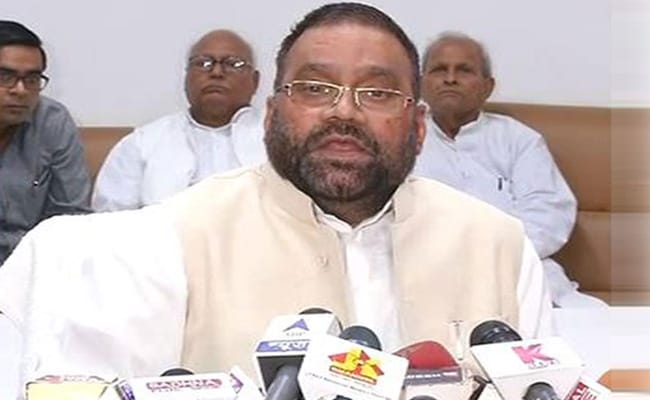 New Delhi:
Samajwadi Party national general secretary Swami Prasad Maurya on Thursday said only women and "Shudras" can feel the pain of the "derogatory" remarks made against them in the guise of religion.
Mr Maurya, a prominent OBC leader in Uttar Pradesh, recently made headlines for his comments on Ramcharitmanas – a 16th-century poem, saying that its certain verses "insult" a large section of the society on the basis of caste and demanded that those be "banned".
He compared the pain of women and 'Shudras' with that of Mahatma Gandhi after he was thrown out of a train by Britishers.
"The pain caused by the insult and misbehaviour the British had meted out to Gandhiji on a train by saying 'Indians are dogs' was only felt by him. Similarly, the pain caused by the derogatory comments made against women and Shudras in the guise of religion are only felt by them," Mr Maurya said in a tweet in Hindi.
A cabinet minister in the previous BJP government in the state, Mr Maurya had resigned and joined the SP before the 2022 Uttar Pradesh Assembly polls.
He contested the election from the Fazilnagar Assembly seat in the Kushinagar district but lost. He was later sent to the legislative council by SP chief Akhilesh Yadav.
On January 24, an FIR was registered against Mr Maurya at the Hazratganj police station over his controversial comments on the "Ramcharitmanas", police said.
The case was registered following a complaint from Shivendra Mishra, a resident of the Aishbagh locality in the Bazar Khala area of Lucknow.
Another FIR was registered against Mr Maurya and others on January 29 at the PGI police station.
The case was registered on a complaint from Satnam Singh Lavi, who alleged that the act of burning the copies of the "Ramcharitmanas" posed a threat to peace, police said.
(Except for the headline, this story has not been edited by NDTV staff and is published from a syndicated feed.)
Featured Video Of The Day
Kareena, Shahid-Mira, Rani Mukerji And Other Guests At Yash-Roohi's Birthday Party