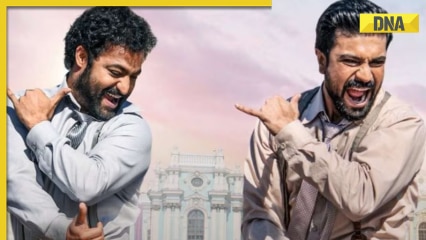 While RRR song Naatu Naatu gained international fame after its big win at the Oscars 2023, the Congress party and Bhartiya Janta Party (BJP) started trading blows, turning the big Academy Awards moment for India into a political war.

Cashing in on the popularity of Naatu Naatu after it won the Academy Award for Best Original Song at the Oscars 2023, Rajasthan BJP and Congress jumped on the fame train and took jibes at each other through a poster war surrounding SS Rajamouli's RRR.

Soon after Naatu Naatu's Oscar moment, Rajasthan BJP released a poster of the song with the two main characters Ram Charan and NTR Jr replaced with Chief Minister Ashok Gehlot and Congress leader Rahul Gandhi, attacking the party over paper leaks and other issues in the state.

The Congress returned the favor with a similar attack, uploading a photo of a Naatu Naatu poster with the two main characters as Prime Minister Narendra Modi and businessman Gautam Adani, with the caption 'Looto Looto' instead of Naatu Naatu.

Oscar winning 'RRR' and The Elephant Whisperes' are India's contributions to the world.

We request Modi ji not to take the credit for their win.

:Congress President and LoP in Rajya Sabha Shri @kharge pic.twitter.com/43loVpofCF


— Congress (@INCIndia) March 14, 2023
BJP responded by posting the same graphics showing Gehlot and Rahul as lead heroes and captioned it as 'Paper Leak Karke Nachoo Nachoo.' Soon after this, Congress president Mallikarjun Kharge also attacked PM Modi over India's big win at the Oscars 2023.

While congratulating the people behind the win of Naatu Naatu and The Elephant Whisperers, the Congress president said, "We are very proud, but my only request is that the ruling party should not take credit and say 'we have directed, we have written, Modi ji has directed'. They should not say that. That is my only request."
The remarks by Kharge in the Rajya Sabha were met with a huge uproar of laughter, not just by the Opposition leaders but by Vice-President Jagdeep Dhankhar. External Affairs Minister Dr S Jaishankar, Health Minister Mansukh Mandaviya, and Labour Minister Bhupender Yadav were also seen smiling at the comment.

READ | DNA Special: Know what RRR song 'Naatu Naatu' win at Oscars 2023 means for Indian film industry