NEW DELHI: The
government
may be able to ramp up oxygen supply for
medical use
by another 11-12% to around 7,000 metric tonnes following restrictions imposed on the use by industry, but a further increase may be possible once imports start flowing in.
Over the last few days, supply of oxygen for medical use has been significantly enhanced to meet the rising demand from Covid patients, although most states and
hospitals
are demanding more.
While oxygen for medical use constituted just over a third of the production at the start of the month, it went up to around 55% along with higher output, and was estimated to be more 77% of the production on Tuesday, according to data available with the Centre.
Production too has been increased to around 113% of the capacity (see graphic).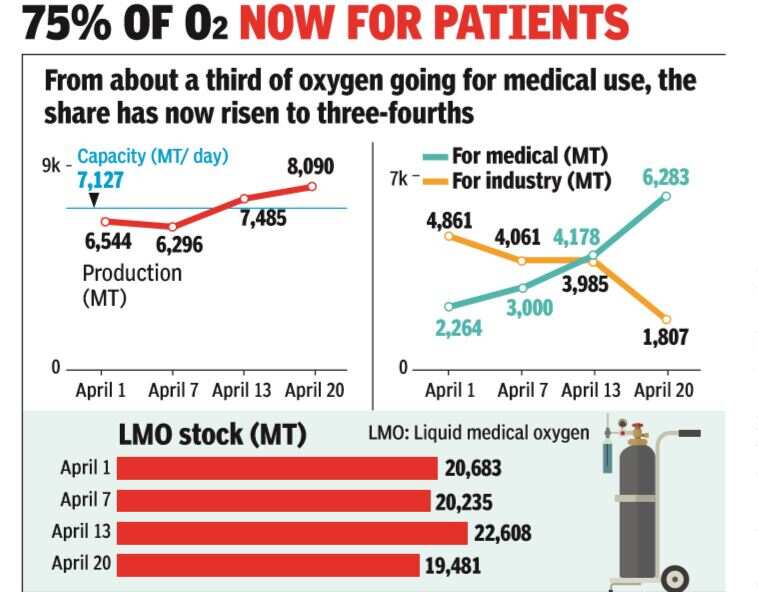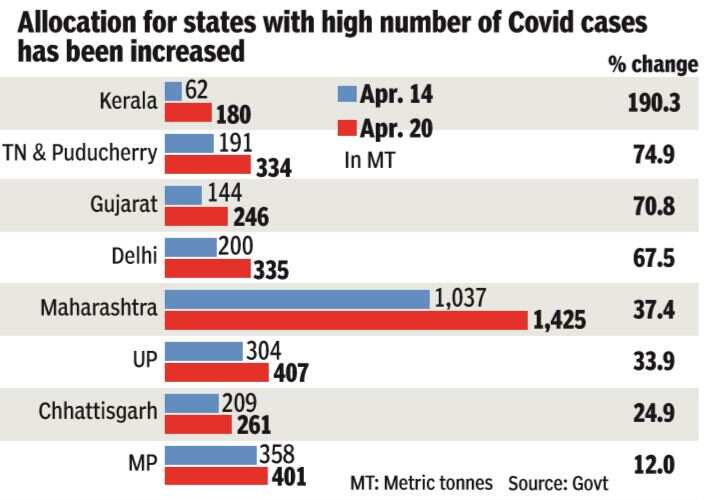 "Now that only the nine identified industrial segments will receive oxygen, there will be more supply for medical use. It may be around 7,000 MT in the coming days," a government source told TOI.
Given the current production capacity, it may be tough to stretch beyond current levels and as a result, supply for medical use will also need to be capped at a certain level. This will mean that hospitals will need to use the available resources better till more supplies come in – a challenge given the rising burden of infections and higher number of patients needing breathing support.
Earlier this week, the government had decided to limit supplies only to a handful of industries including pharma, nuclear power plants, steel units and oil refineries.
Following the rise in cases across several states, the allocation formula has been tweaked with Maharashtra, which has the highest number of cases for several weeks now, getting the highest allocation of 1,425 metric tonnes a day, a 37% jump over the earlier level. The highest increase has been made in the case of Kerala, with Delhi too seeing a 67% jump.