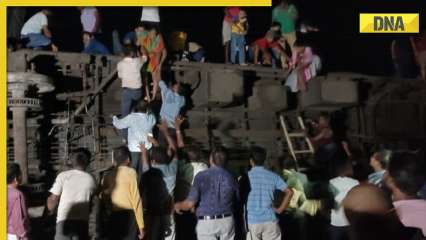 'People were over one another…': Eyewitness gives harrowing account of Odisha train accident
Tragedy struck Balasore, Odisha on a fateful Friday, as a catastrophic train accident unfolded before the eyes of horrified witnesses. The Coromandel Express, hurtling through its usual route, collided with a goods train near Bahnaga station, resulting in unimaginable devastation. This calamity claimed the lives of 50 individuals, while leaving an additional 350 people injured, many of whom find themselves in critical condition. The impact of the collision was so immense that the Coromandel Express veered off its tracks, with numerous train coaches entangled with the mangled wreckage of the goods train. Amidst this nightmarish scene, one woman, Vandana Khated, recounts the harrowing experience she endured.

As reported by Aajtak, Vandana Khated, a passenger on the ill-fated Coromandel Express, recounts the disorienting events with palpable anguish, "As I exited the train's washroom, I was met with a disconcerting sight. The train had tilted precariously, throwing everyone off balance. Chaos ensued, and people were sprawled over one another. It was utter mayhem. We were left grappling with the shock of the situation, unable to comprehend the magnitude of the tragedy. Eventually, we managed to escape."
Reports indicate that the injured passengers have been swiftly transported to Soro CHC, Gopalpur CHC, and Khantapada PHC for medical attention. In response to this catastrophe, all train services along this route have been temporarily suspended. Additionally, a team from the National Disaster Response Force (NDRF) has been dispatched to aid in the rescue efforts. Pradeep Jena, Odisha's Chief Secretary, disclosed that approximately 50 ambulances have been deployed to facilitate the transportation of the affected individuals. In an official statement, the railways expressed, "Train number 12841, en route from Chennai Central to Shalimar, departed at 3:30 pm on June 2. At 8:30 pm, near Bahnaga Bazar railway station in the Kharagpur division, the train derailed. Consequently, the movement of trains in both directions has been severely impacted."
To assist those affected by this tragedy, helpline numbers have been issued by the railway authorities:

Howrah: 033 – 26382217

Kharagpur: 8972073925, 9332392339

Balasore: 8249591559, 7978418322
Shalimar (Kolkata): 9903370746

RailMadad: 044-2535 4771

Taking swift action, the Odisha government, through the Office of the Special Relief Commissioner (SRC), has dispatched search and rescue teams to the accident site. In a bid to provide support, Chief Minister Naveen Patnaik has instructed State Disaster Management Minister Pramila Mallick and senior SRC officials to oversee the ongoing operations. Furthermore, the government is mobilizing generators and lighting equipment to aid in the rescue efforts. The initial NDRF team of 22 members has already arrived, with an additional 32 members expected to join soon. The District Magistrate of Balasore has been directed to personally supervise the accident site and coordinate with the SRC, should any further assistance be required at the state level.

Read more: 'People were over one another…': Eyewitness gives harrowing account of Odisha train accident