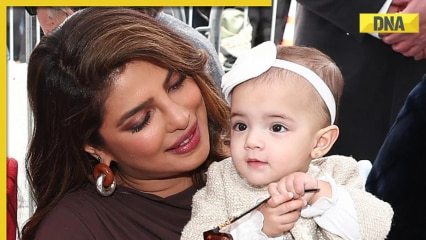 Priyanka Chopra became a mom last year at the age of 39 when she and husband Nick Jonas had a child via surrogacy. Their daughter Malti Marie is now 1. In a recent interview, Priyanka revealed that she had frozen her eggs in her early 30s on the advice of her mother Dr Madhu Chopra, who is a gynaecologist.

Priyanka and Nick met in 2018 and got married later that year. Priyanka was 36 and Nick 26 at the time. In the new interview, Priyanka revealed that she had had her eggs frozen much before she had even met Nick.

In a new interview with Dax Shephard on his podcast Armchair Expert, Priyanka said, "I felt such freedom, I did it in my early thirties and I could continue on an ambitious warpath, I wanted to achieve, and I wanted to get to a certain place in my career. Also, I had not met the person I wanted to have children with. So, with that anxiety-inducing, and with my mom who is an ob-gyn (obstetrician-gynaecologist) going 'just do it'."
Priyanka spoke about what her mom said to her that convinced her to freeze her eggs despite not being with someone she wanted to have kids with. "My mom had said this to me, and I did do it for myself as well. I tell all my younger friends that the biological clock is for real. It gets so much harder to get pregnant after 35 and to carry to term and all of that. Especially with women that have been working all our lives. But science is at such an amazing place right now where if you can afford it, I tell people you save money for a car, do it for this Christmas, this is the best gift you will give yourself because you are taking the power of your biological clock. You can work for till however long, your eggs will be of the same age as when you froze them," she added.

Priyanka will be next seen in Russo Brothers' Citadel, a sci-fi web series that also stars Richard Madden. It will be releasing on Prime Video on April 28. She will also be seen in rom com Love Again, which will be releasing later this year.