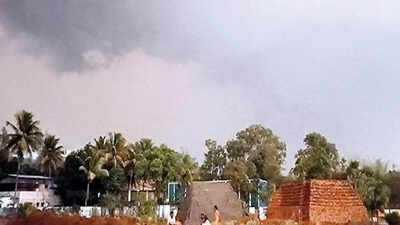 The maximum temperature in Kolhapur came down by 7 notches to to 32o Celsius
KOLHAPUR: Rain lashed several parts of Kolhapur and Sangli districts around Monday midnight and in the early morning hours of Tuesday as well.
The rain was accompanied by thunder and gusty winds that swept across the region at around 35km per hour. Clouds started gathering again in the skies of Kolhapur, indicating possibilities of more rain with thunder and winds at night. Tuesday's rain was a relief for the people of Kolhapur, where the maximum temperature came down from 39oC to 32oC.
The India Meteorological Department (IMD) issued an advisory-nowcast warning for Kolhapur and Sangli, alerting people about rain occupied by thunder and winds flowing at 40km per hour between 8pm on Tuesday and 12pm on Wednesday.
Weather experts said the rain spells could be described as pre-monsoon showers caused by the covectional force exerted due to the fluctuating temperature conditions. The IMD has alerted such rain for the next three to four days.
The gusty winds and rain damaged grapes and raisins kept for drying, mangoes and cashews in the harvesting stage and the strawberry ready for plucking. In the eastern tehsils of Sangli, where raisins are made, the racks were damaged.
FOLLOW US ON SOCIAL MEDIA