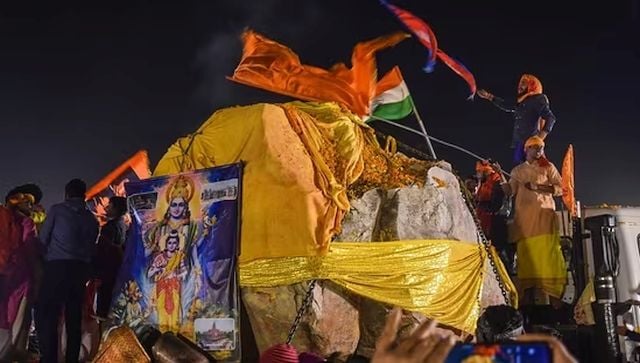 It's the Narendra Modi-led government's big dream. And it's taking shape real soon. The Ram Mandir in Uttar Pradesh's Ayodhya is expected to be ready by 1 January 2024, Union Home Minister Amit Shah has said. And nearly half the construction work is reportedly over. Now work on the construction of the idols is expected to get underway. That brings the spotlight on the shaligram stone slabs which reached the temple city on Thursday.
The sacred shaligram stones
Two large slabs of shaligram stones, fossiled stones that are considered holy, are likely to be used for the construction of Lord Ram and Janaki idols at the temple coming up on the Ram Janmabhoomi in Ayodhya.
The stone is a fossiled ammonite, a type of mollusc that lived millions of years ago. It is found in rivers of the Himalayas, which are considered sacred in Hindu mythology. The slabs to be used for making the Ram idol have been bought from the Kali Gandaki waterfall in Nepal.
Also read: Narendra Modi is weaving religion, nationalism and welfarism to create winning formula for BJP in 2024
The mythological connection
The shaligram stone is said to be a representation of Lord Vishu. Lord Ram is the seventh avatar of Lord Vishnu, the creator and protector of the universe.
According to Hindu mythology, Lord Vishnu received a curse from one of his most loyal devotees, Vrinda, which turned him into a stone.
Vrinda, was the wife of the powerful demon king Jalandhar, who was born out of the flames emanating from Lord Shiva's third eye. He also had boons from Brahma, which made him powerful. Jalandhar was invincible until his wife remained chaste. That made him arrogant and he started tormenting other kings and demi gods, according to Speaking Tree, a website on mythology.
Shiva decided to take on Jalandhar; they were equally matched. Jalandhar, desperate to score a win, reached Shiva's wife Parvati disguised as her husband. But after seeing his lustful eyes, she immobilised him. Angry, she approached Vishnu and told him that he would have to blot Vrinda's chastity.
Now Lord Vishu disguised as Jalandhar went to Vrinda, his ardent devotee. She ran into his arms thinking it was her husband. When she realised it was Lord Vishu, she was heartbroken and cursed him to turn into a shapeless black stone. Jalandhar lost his power and was defeated by Shiva; Vishnu accepted the curse are turned into the shaligram stone.
Since then, the stone has been worshipped as a symbol of Lord Vishnu's power and is considered to have divine properties. It is often used in Hindu rituals and is believed to bring luck.
From Nepal to Ayodhya
The stones come from the Gandaki river bank and weigh about 30 tonnes. "There is a waterfall named Kali Gandaki in Nepal. It originates from Damodar Kund and is around 85 km north of Ganeshwar Dham Gandki. Both these boulders have been brought from there. The place is situated at a height of 6,000 feet above sea level. People even say that it is crores of years old," Champat Rai, the general secretary of Shri Ram Janmabhoomi Teerth Kshetra, told news agency ANI earlier this week.
According to some officials, the two rocks were in the Gandaki River close to Saligrama or Muktinath (place of salvation) in Nepal's Mustang district and are believed to be 60 million years old.
The sacred stones were transported to Ayodhya by around 100 Vishva Hindu Parishad (VHP) officer bearers including the outfit's national secretary Rajendra Singh Pankaj and a five-member delegation from Nepal. The journey was called the Sheela Yatra, according to a report by Hindustan Times.
The consignment reached India on 31 January and set off for Ayodhya. The stones are being transported on heavy-duty trucks.
The slabs were put on display at several locations before reaching their destination. "It took around three hours to complete the distance of 40-45 km in Bihar," said Rai. Several devotees reached National Highway 28 connecting Kushinagar to Gorakhpur through where the Yatra would pass. They were kept at the Gorakhnath temple in Chief Minister Yogi Adityanath's constituency overnight.
After arriving in Ayodhya, these holy stones were welcomed by priests and locals who decorated them with garlands and offered rituals before they were handed over to the Shri Ram Janmabhoomi Teerth Kshetra Trust. They have been placed at the Ram sevak puram, the storage area for construction materials of the Ram temple, in the city. They will be open for worship at 10:30 pm on 2 February, Champat Rai told ANI.
One of the stones will be used to carve the child form of Lord Ram which will be placed in the sanctum sanctorum of the Ram temple. The other will be used to carve the statue of Janaki.
The cost of building the temple
The construction of the Ram temple in Ayodhya is expected to cost Rs 1,800 crore, according to the Shri Ram Janmabhoomi Teerth Kshetra Trust, formed on the Supreme Court's orders.
In the November 2019 verdict, the Supreme Court ruled that the 2.77 acres of disputed land in Ayodhya be handed over to a trust for the construction of a Ram temple. The Trust was set up at the order of the court.
Prime Minister Narendra Modi announced the formation of the trust in Lok Sabha on 5 February 2020. It has 15 members, of which 12 were nominated by the government and three were selected in its first meeting held on 19 February 2020.
With inputs from agencies
Read all the Latest News, Trending News, Cricket News, Bollywood News,
India News and Entertainment News here. Follow us on Facebook, Twitter and Instagram.