NEW DELHI: At the start of 2020, India's Olympic hopes from
hockey
were building up equally in both the men's and women's camps, with the latter's second successive Olympic qualification gladdening hearts. But on March 24 last year, Covid-19 left Tokyo 2020 organisers and the International Olympic Committee (IOC) with no choice but to postpone the Games to 2021.
It's been a little over a year since that decision came down as a hammer for the athletes, followed by the lockdown. The rustiness from months of no practice blunted the edge players had developed over a grind of four years. The
Indian hockey
teams likewise had been peaking, but were forced to bide their time surrounded by walls.
Training for hockey players resumed around June last year, but January 2021 brought the brightest news. The women's team got the green signal to board the flight to
Argentina
, which followed an exposure trip to
Germany
.
"We got to play [after the pandemic-forced break] …It was special, especially Argentina and Germany who are world No. 2 and 3," said the women's team captain, Rani, during an interaction with Timesofindia.com.
India, ranked 9th currently, had defeated USA in a dramatic second match of their Olympic qualifier last year. It's only the first time that a
women's hockey
team from India has qualified for the
Olympics
in two successive editions of the Games, with the earlier and only appearance before 2016 being the 1980 Moscow Olympics.
(Rani Rampal instructing the team during a match – Hockey India Photo)
The team looked better prepared to erase the nightmarish last-place finish at Rio 2016. But the postponement of the Tokyo Olympics was a body blow.
"We have left that line of thought behind," insisted Rani when quizzed about postponement of the Games last year. "We are out of that zone now, as it was something we could do nothing about. I know a year back we were peaking well, we were hoping for a medal. That belief is still there because we built our mindset accordingly, even though we were upset."
A year's gap can have drastic effects on a player and a team's form, which Rani admitted. But speaking on behalf of her team, the skipper said they would do all it takes to make their appearance in Tokyo much more than just participation.
(2/3) https://t.co/IS0F4dsJ5b

— Hockey India (@TheHockeyIndia) 1618370791000
"It's difficult for an athlete to push himself or herself for another year at the same level. But definitely we have the belief that we don't want to just participate in the Olympics, rather we have to do something [big]."
The resumption of play at a competitive level, though, didn't yield the results the team would have expected. It remained winless across seven practice games in Argentina, and lost all four matches in Germany.
But Rani threw her weight behind the team for standing tall against two top teams.
"Overall, these (Argentina and Germany) were good tours. I know everybody talks about results [but] we were playing after one year. During lockdown we could just work on fitness…So we first had to analyse [in a match situation] where we are fitness-wise, how much more we need to work on it, both practically and technically," said Rani.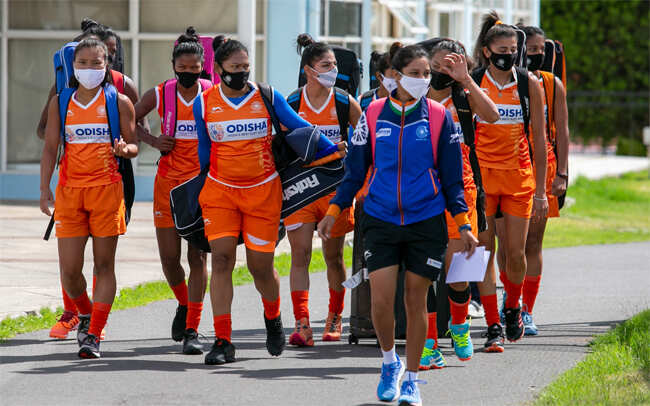 (Indian women's team during the national camp – Hockey India Photo)
Compared to the first half of the last decade, things have changed drastically over the last 5-6 years in terms of how women's hockey is looked at and taken care of in India.
The team has been getting more exposure in terms of tours, which helped them break into the top-10 for the first time. Still, the larger part of their competitive games are against Asian nations, who remain a few steps away from the top bracket in women's hockey.
"It was not easy playing the world No. 2 and 3 teams, who we hadn't played against in the last few years. So we didn't have much idea what style of play they would bring to the pitch, as we have mostly been playing Asian teams," said Rani.
"These are the teams – Argentina, Germany, Holland and so on – who when we play against, we come to know whether we were working on the right track or not and how much more we need to work.
"We have to stay a step ahead of the top teams. Both these teams [Argentina and Germany] mostly play the semis of Olympics and World Cups. We don't have that experience. So they know how to handle those moments [pressure situations]."
If you do, then you know the value of hard work, commitment, and determination in achieving success. Playing sport… https://t.co/QtCivnmcKe

— Rani Rampal (@imranirampal) 1616308827000
Having said that, Rani stressed on the fact that the Indian team has risen to a level where it believes that the European and American teams are very much beatable.
"When we look at our team, then there is not a very big difference between us and those [top] teams. Earlier the gap between us and the European nations seemed bigger; but now when we play them, that difference seems smaller.
"If we continuously work on the finer details, we can beat them; they are not unbeatable," Rani told TimesofIndia.com.
The women's team is scheduled to reassemble for a national camp. If the Covid graph permits, the team is expected to travel to Netherlands in May for another exposure tour in the run-up to the rescheduled Olympics in July-August.