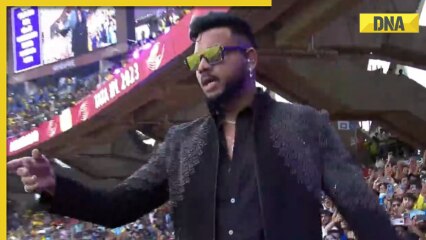 The Indian Premier League 2023 came to an end with the IPL final taking place at Ahmedabad on Monday after the original scheduled final day was washed out due to rains. As Chennai Super Kings and Gujarat Giants faced off at the Narendra Modi Stadium, rapper King – of Maan Meeri Jaan fame – performed at the closing ceremony, and was heavily trolled for his performance.

King's performance took place at the stadium in the mid-innings break, in front of BCCI Secretary Jay Shah among other dignitaries. The popular rapper-singer enthralled the crowds with his hits like Maan Meri Jaan and Tu Aake Dekhle. While the crowd at the stadium cheered and grooved along, those watching the live telecast back home were less than impressed.
Glimpses of the performance were shared widely on social media by netizens criticising King, accusing him of not actually singing but lip-syncing to a track. "Yeah complete lip syncing man sh** show," wrote one netizen. On a post dissing him on Reddit, one user wrote, "Bruh he is an autotune singer he can't perform live."
Many fans bemoaned the apparent 'drop' in the standard of IPL closing ceremonies, where performers included the likes of Akshay Kumar and Arijit Singh in the past years. "From Arijit Singh to this. What a mighty fall," tweeted one. Rapper Divine also performed at the closing ceremony and many fans felt he put up a much better show than King. "Divine saved him," read one comment. Another fan wrote, "If not for Divine, this performance would have been such a sh**show." Jonita Gandhi and Nucleya also performed at the closing ceremony.

King, real name Arpan Kumar, rose to fame with the first season of the reality show MTV Hustle in 2019, where he placed among the top 5. He has since gone on to carve out a successful solo career with multiple hit singles and albums. He recently collaborated with Nick Jonas as well.