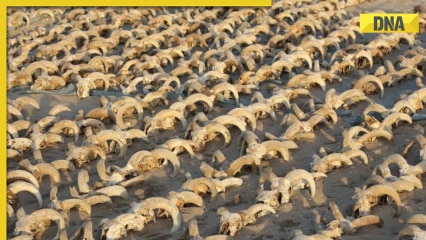 Egypt's tourism and antiquities ministry announced on Sunday that archaeologists have found more than 2,000 ancient mummified sheep heads that were left as offerings at a temple to the pharaoh Ramses II.

At Abydos, a southern Egyptian site renowned for its temples and tombs, a group of US archaeologists from New York University also exhumed the mummies of dogs, wild goats, cows, gazelles, and mongooses.

The ram skulls were "offerings," suggesting "a cult to Ramses II celebrated 1,000 years after his death," according to Sameh Iskandar, chief of the American mission.

(Also Read: US: Two people injured in shooting at Gurudwara in California)
The temple of Ramses II and the activities that took place there between the time of its construction in 2374 and 2140 BC and the Ptolemaic period, from 323 to 30 BC, will be better understood as a result of the discoveries, according to Mostafa Waziri, head of Egypt's Supreme Council of Antiquities.

Archaeologists also found the bones of mummified animals and a palace with five-meter-thick (16-foot) walls that was built some 4,000 years ago. A number of statues, papyri, the remains of old trees, leather clothing, and shoes were also discovered.